Console gamers are more hyped for VR than PC gamers
Sony has pretty much won over the PlayStation nation with its PSVR headset, but PC gamers remain skeptical.

Published Mon, Mar 21 2016 6:35 PM CDT
|
Updated Tue, Nov 3 2020 12:00 PM CST
VR is set to change everything, from gaming to entertainment and everything in between. But a recent survey reveals that not everyone is particularly excited about slapping on a headset, and despite having better hardware options, PC gamers aren't as hyped as their console brethren.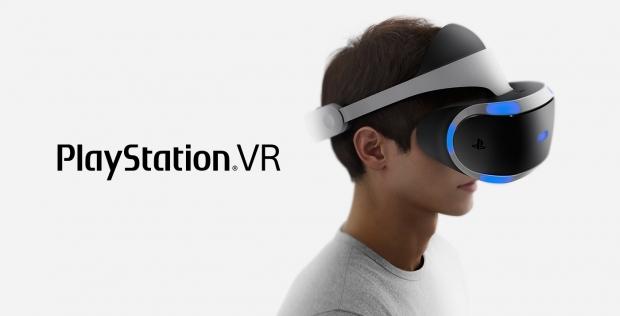 According to a survey held by Gamesindustrybiz, 63% of European console gamers are interested in VR, whereas only 51% of PC players are hyped for the platform. The info also shows that a whopping 72% of Xbox One and PS4 gamers are hyped for virtual reality, which is corroborated by the reports that Sony's PlayStation VR became the #1 best seller on Amazon.
Looking at some of the survey results, we see that 35% of gamers are simply just not interested in VR in any shape or form. The final answers show that 58% of gamers have no plans to buy into VR. That's a pretty big chunk of the gaming crowd who sees VR as a passing gimmick--after all, VR is something you have to experience to believe in. Accessibility is the biggest roadblock for VR, so Sony/Oculus/HTC will have to do their part to convince gamers to adopt VR.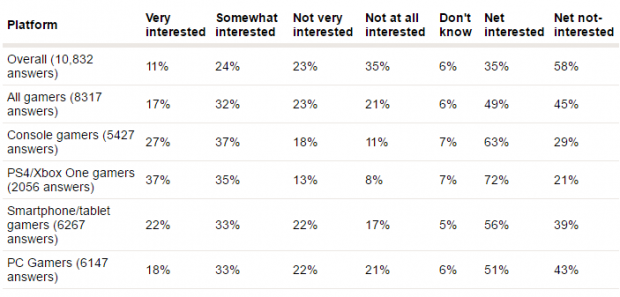 Interestingly enough, PC gamers stand to benefit the most from virtual reality. The PC platform has options for high-performance hardware that can push VR to new heights, whereas Sony's PlayStation VR is limited to the power of a PS4 console. Despite this, PC gamers are more skeptical about the medium, and rightly so: hardly anyone has actually tried the $599 Oculus Rift or the $799 HTC Vive, so it's only natural to fee reservations about shelling that much on VR headsets alone.
Many see the $399 PlayStation VR as the no-brainer choice for VR, despite the fact that it taps underwhelming hardware to deliver "jitter-free 120hz gaming".
In any case, the Oculus Rift is slated to release later this month with the HTC Vive coming in April, so PC gamers will have a lot more time to experiment with VR than console gamers. The PlayStation VR is scheduled to start shipping in October, but pre-orders have been sold out for quite some time.
Related Tags