Batman uses lead-filled grenade against Superman in the new TV spot
Superman kicks Batman's ass in the new Batman v Superman TV spot.
Published
1 minute & 20 seconds read time
There's a new TV spot for Batman v Superman: Dawn of Justice, and man does it kick some serious ass. We've seen most of the footage from this trailer except for a few new seconds - which really counts. Check it out below, then you'll hear my fanboy reaction below.
In the trailer, Superman punches Batman through the air and flies with him - and they crash through countless levels of the building in the abandoned city (which I'm sure is in the outskirts of Gotham, where Batman lures Superman with the Batsignal). Superman then throws Batman down like he's discarded trash, with Batman crashing into and destroying the Batsignal, sliding across the top of the building and nearly falling over it.
Snyder's cinematography comes into play here, with the camera coming up the building and seeing Batman's face - the glowing eyes from his suit, with rain pelting down around Batman, and the camera. Superman floats down, and tells Batman "stay down, if I wanted it, you'd be dead already". Batman pulls the pin from a grenade, and throws it onto the ground - covering the area in smoke, with Superman flying through it - and stunned. Batman is gone, but as he turns around and sees him - Batman fires a gun with Superman catching the bullet.
We've seen either side of this TV spot: the bit where Superman throws Batman through the building, Superman flying through the smoke, and Superman catching the bullet. But, Superman throwing Batman through the Batsignal is new, Batman sliding near the edge is new, and the grenade - is new. I'm figuring that the grenade is filled with kryptonite, or lead - so Superman is stunned in a way and can't see through it. But, why wouldn't Supes just use his super-breath and blow the smoke away? Yeah, I don't know either.
Either way, this new trailer looks freakin' incredible - with Batman v Superman: Dawn of Justice hitting theaters on March 25.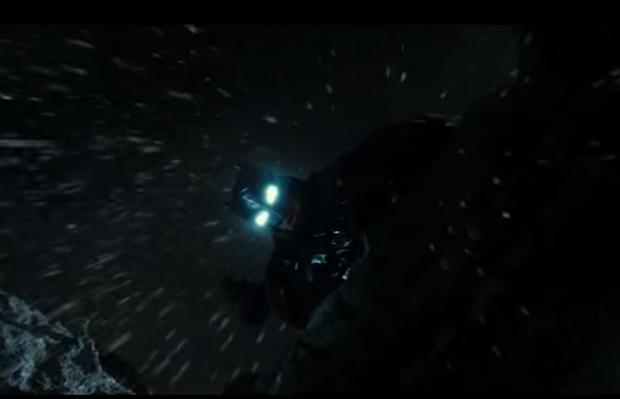 Related Tags