GPU shipments increase this quarter, but down 9% from 2014
AMD and NVIDIA both see increased quarterly shipments, but the dGPU market declined 9% from 2014.

Published Sun, Feb 28 2016 8:23 PM CST
|
Updated Tue, Nov 3 2020 12:01 PM CST
We haven't seen a new GPU release in over 6 months, but GPU shipments are quite healthy. According to the latest data from Jon Peddie Research, overall GPU shipments increased 2.4% in Q4 2015 compared to the previous quarter. Why the increase? Well, new games were released in the last three months of 2015, but with next-gen GPUs only months away, consumers are holding back their wallets.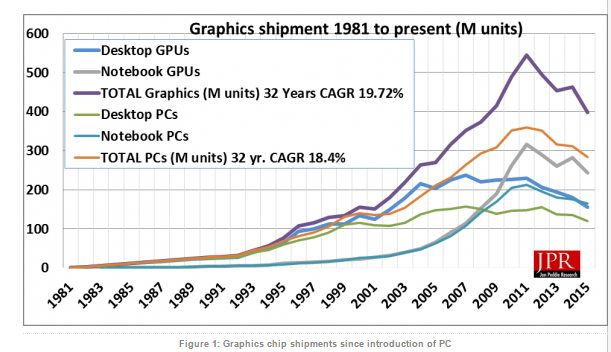 AMD noticed a 5.16% increase quarter-to-quarter while competitor NVIDIA had an 8.41% increase, leaving Intel with a smaller 0.73% increase. The attach rate of GPUs for Q4 2015 was 139%, which was up 0.59% from the previous quarter while discrete GPUs were in 31.28% of all PCs - a number that's up 1.34%. The entire PC market increased 2.01% quarter-to-quarter, but decreased 10.27% year-to-year.
Related Tags