Described in a recently issued press release as a record winning experience, LG Electronics has cleaned up the recent iF Design 2016 ceremony with 28 awards in total, spread across the Gold Award and Design Award categories.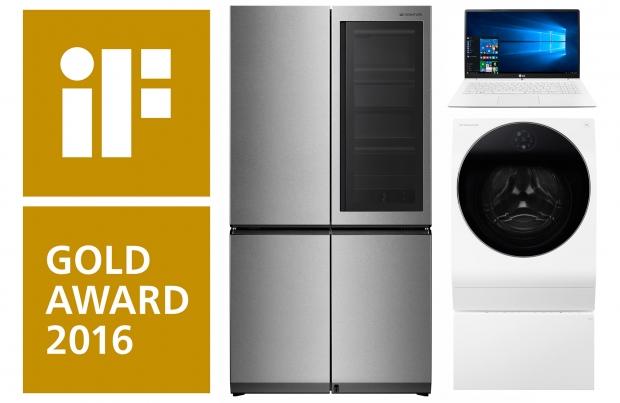 The prestigious iF Gold awards were given to the LG Signature fridge, LG Signature Washing Machine, and Gram 15 laptop - a product that weighs in at 980g, measures at only 16.8mm thick and features a 15.6-inch screen.
The lower-level iF Design awards were where LG really dominated its competitors, being given to various products including the Signature OLED TV, portable speaker strap, Mini Beam LED projector, 24MP88 Monitor, LG G4 smartphone and more.
iF Gold Award Recipients
LG SIGNATURE Refrigerator

LG SIGNATURE Washing Machine

Gram 15
iF Design Award Recipients (Total 25 products)
LG SIGNATURE OLED TV (model 65G6)

OLED TV(model 65E6)

LG SIGNATURE Air Purifier (model AW141YAW)

Mini Beam LED Projector (model PW1500)

Portable Speaker (models P5, NP5550NC, NP5559NC)

Portable Speaker Strap (model NP5558MC)

Curved UltraWide 21:9 monitor (model 34UC98)

Monitor (model 24MP88)

All-in-one PC IPTV (model 27ST67)

Home IoT Hub (model IHU50)

LG G4

LG Zero (model C100)

LG Sound 360 (model PBS-C510)

Rolly Keyboard (model KBB-700 )

TONE Active (model HBS-850)

LG Watch Urbane 2nd Edition (model W-200)

QuadBeat 3 Earphone (model HSS-F630)

Water Purifying Refrigerator with Door-in-Door

Top-Loader Washer and Dryer

TWINWash Washer and Dryer

TWINWash Mini

LG Speed Oven+

Signature Kitchen Suite

LG USP Pictogram

ESS(Energy Storage System)