Microsoft is making a Hololens app to explore the Milky Way galaxy
Galaxy Explorer is a secret new Hololens project that'll let you explore the Milky Way galaxy in all its glory, right in the comfort of your own home.
Published Fri, Feb 19 2016 8:16 AM CST
|
Updated Tue, Nov 3 2020 12:01 PM CST
The Hololens from Microsoft was revealed to be one of the most interesting augmented reality device coming in the near future. The possibilities outside of gaming are just massive. There are so many incredible uses and ways to interact with the world with such a device. A team within Microsoft has created the Galaxy Explorer, a way to physically (well, digitally) interact with the Milky Way right in front of your eyes.
Galaxy Explorer is an app that the community voted on that they've decided to dedicate some resources into realizing. It's an expression of some of the coolest things that you can do with the Hololens. In a way, it's almost a realistic, and personal, representation of the astrogation room from Star Trek. Or a 3D representation of the Star Citizen Star Map. Explore the galaxy in any way you want. Check out those exoplanets that have been found by Kepler in person. And even take a look at what the moon would look like as cheese.
They're in the planning phase at the moment, but the idea is to get people excited about Hololens and get people thinking about the possibilities inherent in the new platform. They're planning to have Galaxy Explorer ready to show at the Microsoft Build Developer Conference, which takes place from 30th March - 1st, April 2016.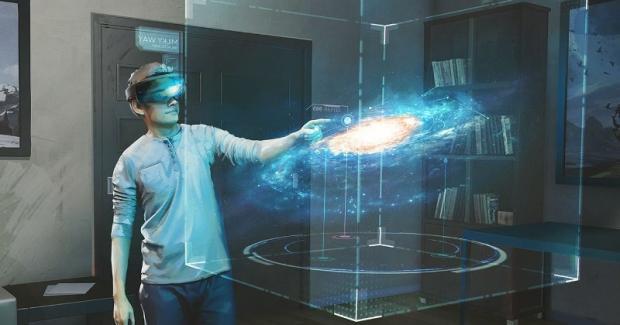 Related Tags