Unity answers Unreal's VR Editor with its own VR-in-VR dev toolset
Unity swings back at Unreal with its very own 'build a game while in VR' editor. It's VR-ception!

Published Thu, Feb 11 2016 7:34 PM CST
|
Updated Tue, Nov 3 2020 12:01 PM CST
Not content with letting Unreal have all the fun, Unity has revealed its own toolset that enables devs to build games while in virtual reality. Now developers can literally tweak games while standing in their creations, which could open up the doors to amazing possibilities down the road.
Unity's VR-in-VR scene editing toolset is called SceneVR, and is a direct contender to Unreal's recently unveiled VR Editor. Using an Oculus Rift headset, Unity engineer Timoni West showcased a SceneVR preview at this year's Vision AR/VR Summit.
Using SceneVR, West was able to manipulate in-game objects in real-time. She started off with filling in a basic modern rooftop scene, all the while discussing basic features of the suite. West affirmed that the team is still working on optimizing SceneVR to make it more user-friendly, and that it'll be just as customizable in VR as Unity is to 3D.
"We don't want to pull in all the Unity windows into VR. We really want to rethink 'what is the best way to work in VR'. We're try think about what is the usability here. We're still just getting started with this, but we're really trying to be thoughtful about how we build up good and useful tools for you," she said during the demonstration.
"The vision is that SceneVR should be just as customizable as Unity is to 3D. So you should be able to pull off assets and put them where you want, put windows where you want, and make a little utility belt. We also have a few things up our sleeves that will let you make scenes really quickly."
While SceneVR is still in its early preview stages, it's amazing to realize how much potential VR adds to the world of games development. Designers and coders can make real-time adjustments to their in-game world's, tweaking and manipulating the entire scene in real-time, all the while seeing exactly what they're doing without having to worry about previewing renders.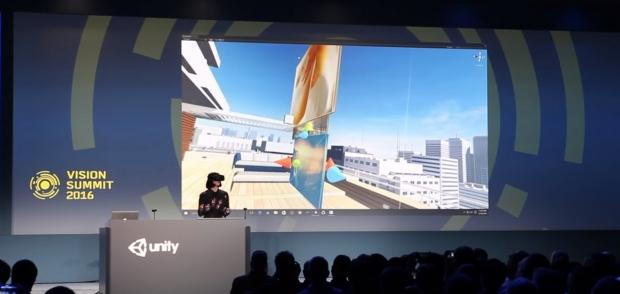 Related Tags