Xbox One tips: how to manually eject a disc
If your Xbox One won't eject discs, break out your paper-clips! It's time to eject it manually.

Published Mon, Jan 25 2016 10:30 AM CST
|
Updated Tue, Nov 3 2020 12:01 PM CST
Current-gen consoles don't have disc trays you can exactly force open. So what happens when your Xbox One simply won't eject a disc? Before you wait forever on Microsoft Customer Support, use this easy tutorial to grab your disc back from the console's hungry maw.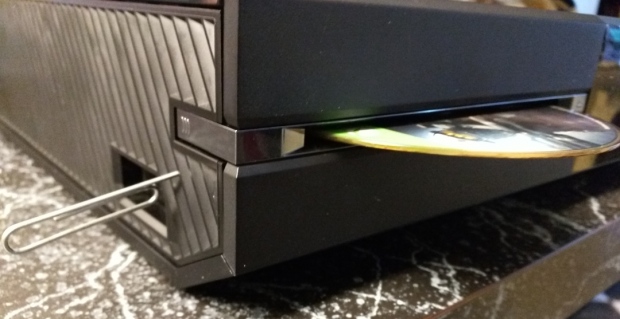 Dealing with a malfunctioning games console is incredibly frustrating. You've spent a good $300 or so on hardware, and you damn well expect it to work. As we all know, there are no guarantees when it comes to hardware--games or otherwise--but there are a few easy homemade fixes you can do in order to alleviate the situation. If your Xbox One's disc drive is on the fritz and won't eject your disc, then break out your paperclips and let's get cracking.
PC disc drives can be manually forced open with a paper clip, and apparently so can Xbox Ones. First, unhook the console's power and extra plugs, separating it from everything else. With the console facing you, rotate it counter-clockwise so you see the extra USB port and silver button. With the light shining on this side of the console, look through its vents for a little orange dot--this is where the manual eject pinhole is located.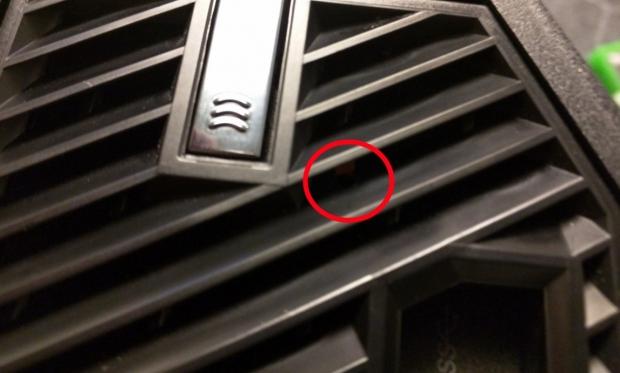 Now simply slide in the paper clip into the pinhole, and the disc will push out. It'll only push out a bit so you'll have to grab it and pull it the rest of the way. Voila! You've retrieved the disc!
Sadly, we can't really help with the dreaded disc read error or dead disc drive faults. I myself have suffered from this ever since I updated my console a month or so ago. Oddly enough, the Xbox One stopped reading discs after the new update was applied, so my unit has pretty much been collecting dust ever since (and you can probably see it in the picture!)
Remember, you can always go to Microsoft's Xbox One support page for a separate walkthrough, as well as troubleshooting tips on other problems.
Related Tags