Corsair unveils its fastest 128GB, 64GB and 32GB DDR4 RAM kits
Corsair jumps into the high-performance DDR4 RAM arena with a trio of kits, including an insane 128GB kit at 3,000MHz.

Published Mon, Jan 18 2016 1:33 PM CST
|
Updated Tue, Nov 3 2020 12:02 PM CST
Corsair has just unveiled a new trio of high-performance, blazing-fast DDR4 RAM module kits aimed at a range of platforms including enterprise workstations and enthusiast gaming rigs.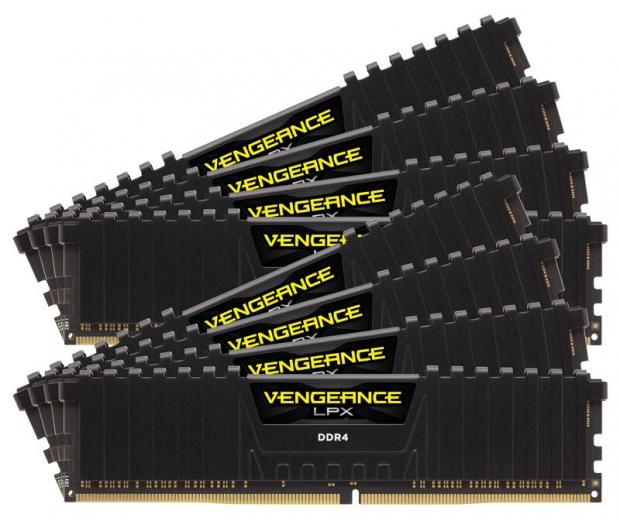 The reigning champion in Corsair's new Vengeance LPX DDR4 RAM trio is the new 128GB (8x16GB) kit, which pushes a blistering pace with frequencies at or above 3,000MHz. This particular kit is aimed at pushing Intel's X99 quad-channel platform to its limits, and is primarily made for demanding enterprise sector computing. The 128GB DDR4 RAM kits have CL16-18-18-36 timings, sport full XMP 2.0 support, and only draw 1.35V.
Next up we have the Vengeance LPX 64GB (3x16GB) DDR4 kit, which hits 3,333MHz frequency speeds, and sports CL16-18-18-36 timings with a low 1.35V power consumption. Last but certainly not least, is the Vengeance LPX 32GB (4x8GB) DDR4 kit that clocks in at a 3,6000MHz frequency speed. The Vengeance LPX 32GB DDR4 kit has a CL16-19-19-39 timing and runs at 1.35V like its more powerful sibling kits. Both of these flavors are optimized for Intel's Z170 dual-channel platform, and are the fastest 64GB and 32GB RAM kits that Corsair has ever made.
The high-performance DDR4 RAM trio is clad in Corsair's black Vengeance LPX heat spreaders that optimize heat transfer. If you need to match a specific build, the 64GB and 32GB kits are also available with red heat spreaders. The kits also come with Corsair's 40mm Vengeance Airflow cooling fan bracket that can be fitted to each bank of DIMMs to further reduce heat.
All three Corsair Vengeance LPX DDR4 kits are available now across select retailers, and you can find a pricing structure below.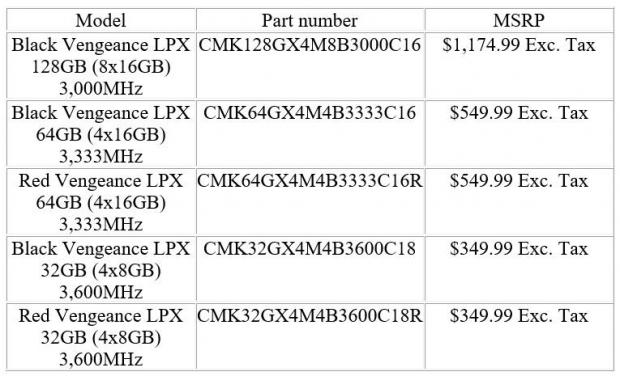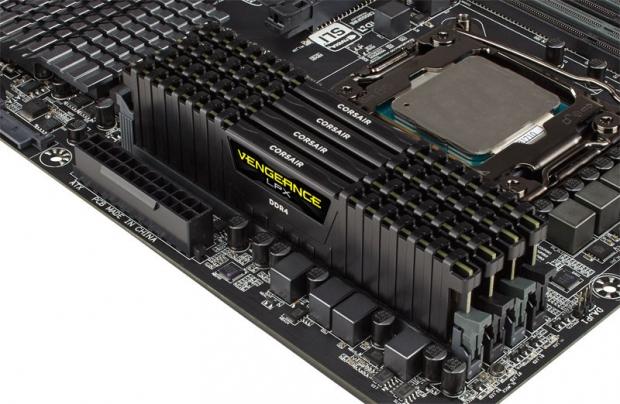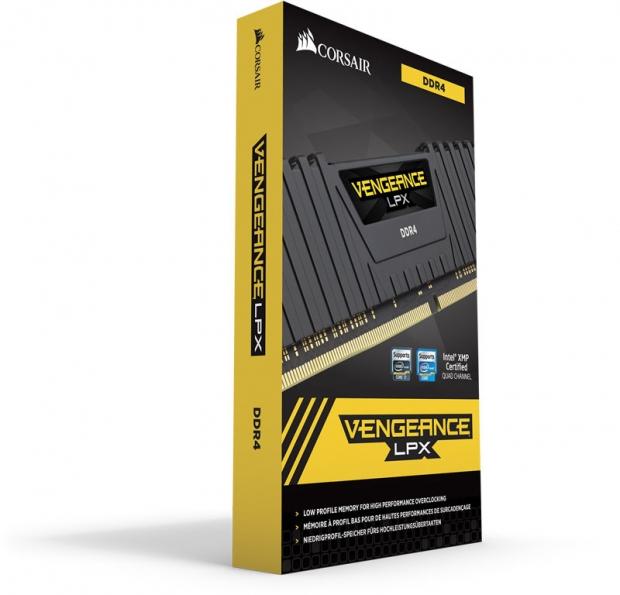 Related Tags