Real-life laser-based Lightsaber is as dangerous as it sounds, bright
Someone went and built a 7W laser they're calling a lightsaber. While not that, it is a very powerful laser capable of cutting and setting things on fire.
Published Dec 28, 2015 6:05 PM CST
|
Updated Wed, Jul 27 2022 3:48 AM CDT
0 minutes & 56 seconds read time
Someone has created a working lightsaber using laser-light as it's basis. Well, it's not quite a light-saber, but just a really bright and powerful 7W blue-diode laser that doesn't really resemble a lightsaber at all. But he's calling it one, so there's that I suppose.
In reality the individual in the video, styropyro, actually built his own laser using a rather 7W Nichia made GaN diode that runs at a maximum of 4.6A. His design uses a wavelength that just happens to be highly visible to the human eye. This laser definitely can cut, though slowly, through a variety of materials. Just don't expect it to be able to lop off limbs.
The great thing is that all of the parts used to make this pseudo-saber are actually publicly available in most regions. You can theoretically make a very powerful laser all on your own, well beyond the 7W power-envelope of the one in the video. But just be very safe if you do, and always wear eye-protection when playing with lasers.
For his next trick he plans on making a "bazooka" type laser weapon with multiple lasers that'll amount to a total of 150W of power. But in the meantime you can watch him carve wood and burn through a variety of substances. It's all rather neat, even if it isn't a proper lightsaber.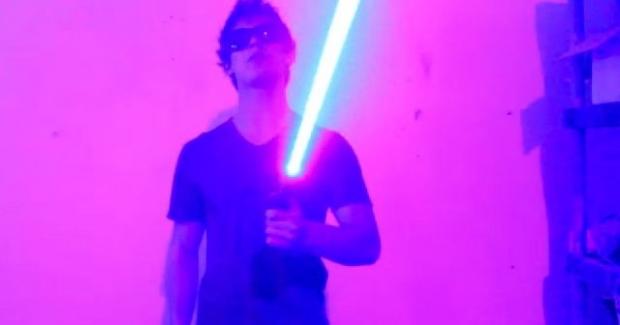 Related Tags