Now you've seen it all, Chewbacca interviews a rocket scientist
Chillin' With Chewie aims to explain Star Wars technology in real life means, letting us know if, or when, these things will become reality.
Published Mon, Dec 14 2015 9:37 AM CST
|
Updated Tue, Nov 3 2020 12:02 PM CST
If you were wondering exactly how some Star Wars technologies may become feasible things in the real-world, Michigan State University has published another episode of its 'Chillin' with Chewie' series, aiming to explain Star Wars technological advancements to the public with the help of real life scientists.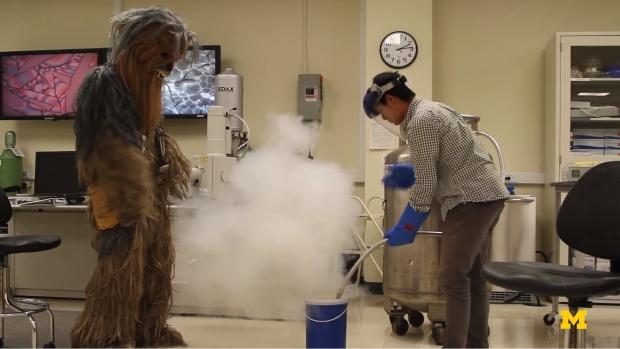 While some technology in Star Wars may never come to light (pun intended), this series aims to cover many technologies ranging from real to fictional and from Carbonite to light sabers. With this educational tool further explaining a possible time frame for some of these cool technologies to become reality, it's a must watch for any Star Wars fan.
An article by Gizmodo pointed out that that this series explains that "TIE fighters' thrusters are a million times more powerful than anything we've ever developed," giving you an insight into some things you may learn by watching this series for yourself.
Now please excuse me while I binge every episode in a row. You can do it too, just click here.
Related Tags