Mobile gaming is big business, worth $25 billion by the end of 2015
Just how big is mobile gaming? By the end of 2015, mobile gaming will be a $25 billion business.

Published Fri, Nov 13 2015 4:35 AM CST
|
Updated Tue, Nov 3 2020 12:03 PM CST
We know that mobile gaming is huge, but did you know it was worth up to $25 billion? According to the latest report from EEDAR 'Deconstructing Mobile & Tablet Gaming 2015', the global market for mobile gaming will be worth $25 billion or so by the end of 2015.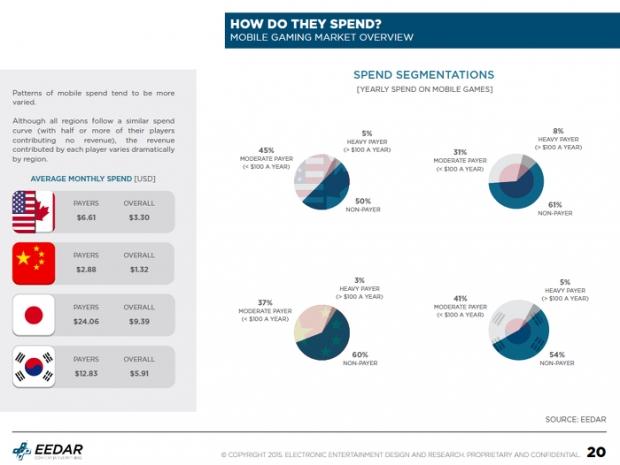 The United States, Japan and China are where most of the money is made with $5.41 billion, $5.16 billion and $5.01 billion, respectively. South Korea is behind considerably, but still worth a large chunk of $1.37 billion. The Asia Pacific countries collectively make up most of the world's mobile gaming business, with 50% of the world's mobile gamers making 56% of the global revenues coming from the Asia Pacific region.
When you take a closer look at the numbers, the US is where there are more female mobile gamers, with 55% of mobile gamers being women. In Japan, China and South Korea, 55-60% of mobile gamers are male. When you break down the amount of money gamers are spending on mobile gaming, mobile gamers in the US spend around $3.30 per month each on games. But in China, it drops to $1.32 and up considerably for South Korea with $5.91. Looking at the Japanese mobile gamers, where they have an overall average spending of $9.39.
Related Tags