Surface Book has dual-GPU setup with custom 1GB GDDR5 Maxwell GPU
Expensive models of Microsoft's new Surface Book have both integrated and discrete graphics, including a custom Maxwell GPU from NVIDIA.

Published Fri, Oct 9 2015 1:00 PM CDT
|
Updated Tue, Nov 3 2020 12:03 PM CST
With its new Surface Book, Microsoft one-ups its own Surface Pro line by melding the on-the-go utility of a tablet with the functionality of a laptop and the performance of a desktop. Microsoft touts the Surface Book as the "world's most powerful, thinnest laptop", and new info on the 2-in-1's dual-GPU setup helps add credence to Redmond's claims.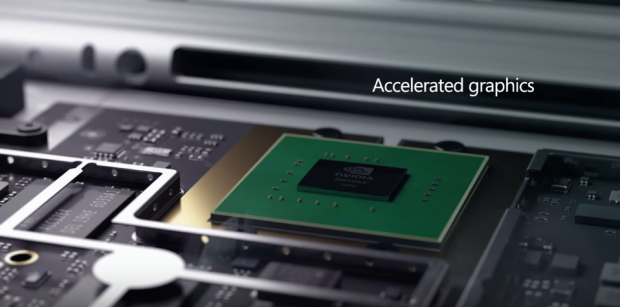 Rather than featuring a single graphics solution, the more expensive Surface Book models actually have dual-GPU setups: an iGPU complimented by a dGPU. The Surface Book's tablet portion houses Intel's integrated Iris Graphics by default, so this is the graphics solution you'll get with the $1500 and $1700 models.
Consumers who opt in for the $1900 and above flavors get a second discrete GPU that's housed in the attached keyboard base. The discrete solution is a Maxwell-based GPU with 1GB of GDDR5 VRAM that's been custom-built by NVIDIA. "The new GPU is a Maxwell-based GPU, and was designed to deliver the best performance in ultra-thin form factors such as the Surface Book keyboard dock," NVIDIA told Gizmodo. "With NVIDIA GeForce GPU powering this new hybrid, users will be able to speed up productivity apps such as Adobe Illustrator and Lightroom, and light PC gaming."
Speculation points to the Surface Book's dGPU being matched up with an NVIDIA 950M GPU in terms of performance, but so far neither NVIDIA or Microsoft have revealed any concrete details.
While no benchmarks have been unveiled just yet, Surface devices have always been about productivity over gaming. Then again Panos Panay mentioned that the accelerated NVIDIA GPU has been tweaked by the Xbox team, so there could be some surprises left in store for consumers, maybe even Xbox-to-Surface or PC-to-Surface game streaming over Windows 10.
Below we have a quick breakdown of the different Surface Book models with specs and pricing.
Intel Core i5 CPU, integrated Intel Iris Graphics, 8GB RAM, 128GB storage - $1500
Intel Core i5 CPU, integrated Intel Iris Graphics, 8GB RAM, 256GB storage - $1700
Intel Core i5 CPU, integrated Intel Iris Graphics, discrete NVIDIA GeForce GPU, 8GB RAM, 256GB storage - $1900
Intel Core i7 CPU, integrated Intel Iris Graphics, discrete NVIDIA GeForce GPU, 8GB RAM, 256GB storage - $2100
Intel Core i7 CPU, integrated Intel Iris Graphics, discrete NVIDIA GeForce GPU, 16GB RAM, 512GB storage -$2700
Related Tags