Rise of the Tomb Raider joins the microtransaction bandwagon
Rise of the Tomb Raider will have microtransactions, heaps of DLC and 'extra modes'
Published
2 minutes & 25 seconds read time
While you can buy in-game insurance for your base in Metal Gear Solid V: The Phantom Pain, Crystal Dynamics doesn't want to be alone in the microtransaction game, announcing a bunch of digital gear for its upcoming Xbox One timed exclusive, Rise of the Tomb Raider.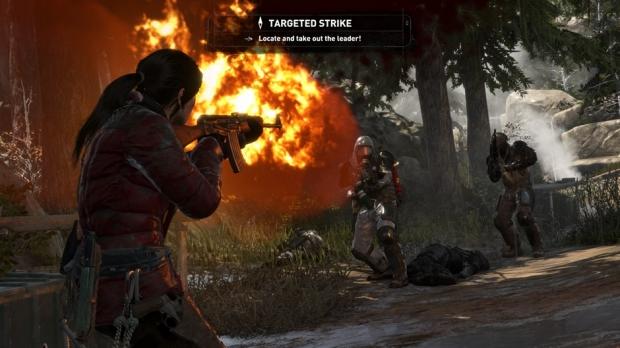 Rise of the Tomb Raider will feature 'Expedition Cards' that allow players to "craft missions and challenge your friends to reach the top of the leaderboards" according to Crystal Dynamics' Creative Director, Noah Hughes. Hughes continued: "In Rise of the Tomb Raider, you'll earn credits by completing challenges and exploring the world. These credits can be used to purchase Expedition Card packs. When used, Expedition Cards become modifiers in game modes outside of the single player campaign. Some Cards are humorous, such as Big Head Mode, while others can increase the challenge or give you special advantages".
"There are two types of Expedition Cards: Foil and Common. A Foil Card will give Lara the strongest or strangest variations and can be used as many times as you wish. A Common Card is only used once, and you'll need to earn more credits to buy it back", Hughes continued. He added: "Expedition Cards offer "hundreds" of ways to customize Rise of the Tomb Raider, Hughes said. "You can also set up challenges for your friends to see if they can beat your scores with the same card setup. We'll have about 300 cards available at launch, and more will be added in the weeks that follow".
Rise of the Tomb Raider will feature a $30 DLC pack that will include the following:
Endurance Mode -- "Survive the extreme conditions of Endurance Mode."
Baba Yaga: The Temple of the Witch -- "Explore a new tomb that house an ancient terror."
Cold Darkness Awakened -- "Combat waves of infected predators."
In-game content -- "A steady stream of outfits, weapons, and Expedition Cards" that will be available at launch and continuing for more than four months.
On top of that, we'll be greeted with the ability to "extend the single-player campaign" with some new modes courtesy of Crystal Dynamics. These modes include:
Score Attack -- Lets you replay levels from the game with a new set of rules, as you race the clock to post the best time and earn medals. Chain together attacks, movements, and collectibles to keep your multiplier high.
Remnant Resistance -- Lets you replay Hub spaces with a new set of goals. You can craft your own missions by choosing the objectives, enemies, and more. Once you've mastered the mission, challenge your friends and the community to beat your high score. You can include the Expedition Cards you want featured, and others can use these Cards even if they don't have them in their collection.
Chapter Replay -- Lets you keep the skills and equipment that you acquired on your first play-through.
Rise of the Tomb Raider will drop on the Xbox One and Xbox 360 on November 10, and onto the PS4 and PC in 2016.
Related Tags