We know it's coming, and we can't wait - NVIDIA begins showing off more and more of its new Pascal architecture, teasing the HBM-powered Pascal GPU at GTC Japan 2015 recently.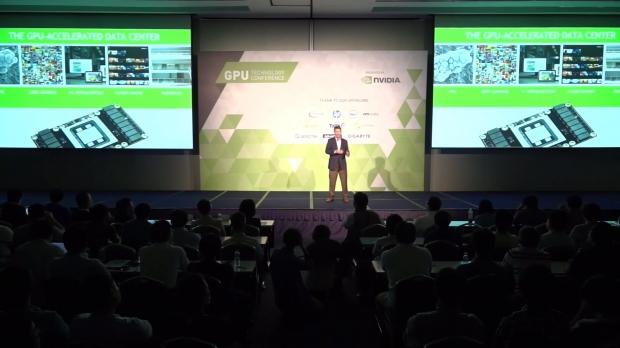 The last time we saw Pascal was when NVIDIA CEO Jen-Hsun Huang showed off a prototype board at GTC 2015 in March, but now we're seeing a slightly different Pascal GPU board than we saw earlier this year. The board features an actual Pascal GPU now that it has taped out, with the consumer GeForce card to feature a huge 16GB of HBM2 while the professional side of things will bump things up to 32GB of HBM2.
The design of the board is very similar to the Fiji-powered cards from AMD, as NVIDIA's Pascal chip is on a similar interposer to AMD. It looks slightly bigger, but we should expect the Pascal-powered cards to blow the doors off of the Fiji-powered cards from AMD. We will see DirectX 12 support, around 17 billion transistors, a 4096-bit memory interface, and so much more. Expect more news on this as we get closer to the New Year.