It looks like NVIDIA is really ramping things up for GRID 2.0, so that it can power an insane amount of virtual desktops thanks to its Maxwell GPU architecture.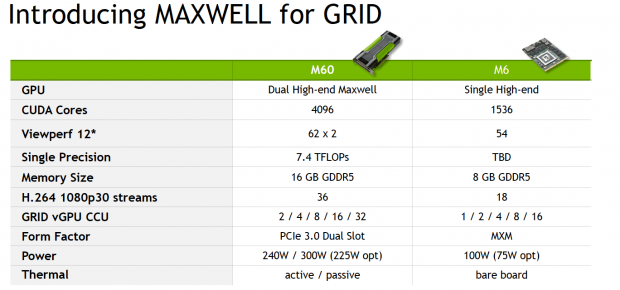 GRID 2.0 was announced at the VMworld conference yesterday, where NVIDIA unveiled two new video cards based on their Maxwell architecture. The first is a dual-GPU, high-end card in the form of the Tesla M60 while the other is a single-GPU, high-end offering in the Tesla M6. Starting with the Tesla M60, we have 4096 CUDA cores, 16GB of GDDR5 and 7.4 TFLOPS of single precision performance. The Tesla M60 is capable of handling 36 simultaneous H.264 1080p30 streams at once and uses up to 300W of power.
The Tesla M6 features just 1536 CUDA cores, 8GB of GDDR5 and it can handle 18 simultaneous H.264 1080p30 streams at once. It arrives on a bare board on its own, using up to 100W of power. NVIDIA is coy on pricing at the moment, with both of the new Maxwell-based Tesla offerings being made available on September 15.