AMD continues to cut spending on R&D, down 40% in the last five years
AMD is spending less and less in R&D, and that should worry people.

Published Tue, Aug 18 2015 9:17 PM CDT
|
Updated Tue, Nov 3 2020 12:04 PM CST
Riding back on the news that AMD has lost a considerable chunk of the discrete GPU market this quarter, this news of AMD spending less and less on research and development is not good to hear.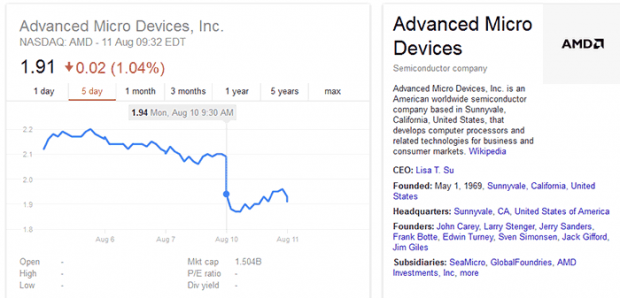 AMD shares dropped 13% last Monday without any new information or reasoning behind the huge dip in share prices, but it could be a result of NVIDIA's better than expected financials, or it could be the fact that AMD has lost more market share to NVIDIA, even after the release of its first next-gen GPU in nearly two years.
Furthermore, AMD has been scaling back R&D spending over the last five years, with Pacific Crest analyst Mike McConnell chiming in, with the following: "When I talk to investors about AMD, there's some concern - I mean, we've seen a decline by close to 40% versus levels we were at in the beginning of the decade". AMD CTO Mark Papermaster has said that the PC market is shrinking, and that AMD is putting less R&D effort into that part of the business.
Papermaster said: "So it is on that next generation of CPUs starting with Zen. It is on successive generations of our graphics core next." With particular reference to its APU and GCN designs Papermaster boasted that a lot of investments have paid off in getting its APUs adopted for its game console wins. Furthermore the AMD CTO asserted that "we have a very strong roadmap for that Graphics Core Next IP going forward".
Related Tags