AMD's GPU market share drops again, even after the release of Fury X
NVIDIA continues to gain more GPU market share, while AMD's biggest GPU release ever sees them lose even more of the market.
Published Aug 18, 2015 8:49 PM CDT
|
Updated Tue, Nov 3 2020 12:04 PM CST
3 minutes & 38 seconds read time
The last time we had GPU market share numbers, NVIDIA was dominating AMD with 76% of the discrete GPU market, leaving AMD with scraps. This was back in Q4 2014 (with our article released in February 2015), where NVIDIA's best video card was the GeForce GTX 980.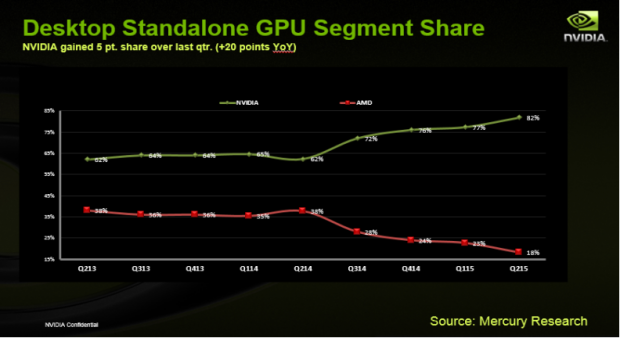 This was before the release of the Titan X in March, and before the GTX 980 Ti in June. At the time, AMD had its Hawaii architecture inside of the R9 290X, and the dual-GPU in the form of the R9 295X2. At the time, all signs pointed to the R9 390X turning things around, but the R9 390X ended up being yet another rebrand, while the R9 Fury X was discovered with our world exclusive during Computex 2015 in June, powered by High Bandwidth Memory.
Fast forward to now, where we're in Q3 2015, and AMD has multiple new products on the market: the R9 Fury X, R9 Fury, R9 390X and a bunch of rebranded 300 series video cards. According to Mercury Research's latest data, NVIDIA has jumped from 76% of the discrete GPU market in Q4 2014 to 82% in Q2 2015. This leaves AMD with just 18% of the dGPU market share, even after the release of multiple new products from Team Red.
Now, one would think that with the release of a truly next-gen card like the R9 Fury X, rocking HBM1, that it would sell well - but it has not. There are multiple issues here, and not just the single issue that most people would think. Most would come to the conclusion that the Fury X isn't selling well, but if you remember our exclusive report that HBM1 yields were seriously low, so low that there would only be 30,000 units made over the entire of the year, this is issue one.
Issue two is that Radeon fans haven't had a new video card release in over a year, shouldn't they be foaming at the mouth over the Fury X? If not, why not the Fury? Well, there are also seriously low Fury units in the wild, too. So let's move over to issue three: rebrands. AMD has rebranded nearly its entire product stack, with no real reason to buy a R9 390X if you own an R9 290X. Absolutely no reason. There is 8GB of GDDR5 on board compared to the 4GB offered on most R9 290X cards, but that's not enough to push someone to upgrade their card.
Then we have the big issue of the HBM-powered R9 Fury X not really offering any form of performance benefits over the GDDR5-powered GeForce GTX 980 Ti from NVIDIA, with the 980 Ti beating the Fury X in some tests. NVIDIA has plenty of GM200 GPUs to go around, with countless GTX 980 Ti models from a bunch of AIB partners. There is absolutely no shortage of GTX 980 Ti cards in the while.
From what I've read online and polled a bunch of my friends about, not many people are buying - or can even get their hands on - a Fury X. Most of my personal friends have secured themselves a GTX 980 Ti after they saw the performance numbers on the Fury X, as there's no real benefit to the Fury X and its HBM1 technology. The inclusion of an AIO cooler also burns AMD users, as they need to have the space in their chassis to install the Fury X - which is not something that is easy, neat, or beneficial.
Right now, it seems as though AMD has a very big shovel, and it is digging itself a very big, almost inescapable grave. If we look to the future, NVIDIA will have GP100 and GP104 out next year powered by its brand new Pascal architecture. This alone is going to really hurt AMD and its Fiji architecture (which didn't really seem to offer much over Hawaii). Not only that, but NVIDIA will shift down to the 16nm process, and with their Maxwell architecture already being super power efficient, what does that mean for AMD? Well, I haven't even gotten to the point that NVIDIA will be skipping over HBM1 and right into the arms of HBM2, where we should see around 1TB/sec memory bandwidth.
If we put all of these ingredients into a bowl, NVIDIA will be making a very powerful cake next year with their Pascal architecture, 16nm process and HBM2 technology. I haven't even touched on software yet, which is another area where NVIDIA have been really nailing AMD.
On dGPU market share alone, if these trends continue, where will AMD be in a year? They can't lose too much more, because the fight back to even 35%, a number it hasn't been able to sit at since Q1 2014, is next to impossible for AMD to reach at this point in time. AMD needs a miracle to impress consumers enough to gain 10% dGPU market share back, let alone 20-30% more. Then NVIDIA would have to release a bomb of a product stack to lose that market share.
Interesting times ahead, that's for sure.
Related Tags