Ouya CEO Julie Urhman today confirmed that PC hardware maker Razer has bought out the company. Urhman inadvertently broke the news by tweeting a cavalcade of thank you messages signalling something big had happened.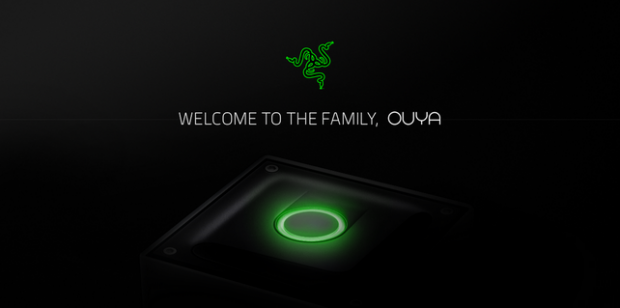 The ex-CEO further tweeted the following message to Razer, confirming the buyout speculations: "Can't wait to see what you do. Take care of my incredible team and community...I know you will."
Razer has since issued a lengthy announcement post. "Today we're pleased to welcome OUYA to the Razer family," reads the announcement. "With them in the Razer fold, we plan to further embrace hardcore gaming in the living room and take Android gaming to the next level."
"In the near future, Razer will be providing existing Ouya users with a clear path of migration to the more advanced Forge TV micro-console and Serval controller bundle," the announcement continues, highlighting how the Ouya hardware fits in with their current lineup. "Razer's intention is to allow Ouya users to bring their games, controllers, and accounts to the Cortex TV platform on the Forge micro-console, advancing the experience of Android gaming on TV that they have previously enjoyed."
The Ouya's extensive software library stands as the most attractive asset the company has to offer, and Razer fully plans to make use of it in a dynamic capacity. Considering Razer has its own ForgeTV Android micro-console it's not likely that the Ouya's hardware was a sales motivator.
"The company also intends to bring myriad additional games to the Android platform it purchased, through increased investment in developer and publisher programs, and with complementary technology partner initiatives."
Razer CEO Min-Liang Tan will be hosting a full-on AMA this Thursday, July 30 on the Razer Insider to reveal the new changes and answer community questions.
Uhrman has further announced that she won't be making the transition over to Razer. "OUYA was a once in a lifetime experience," the ex-Ouya CEO wrote on Twitter. "Now, I'm off to find the next...stay tuned!" No official details have surfaced so far on how much Razer paid to acquire the flagging Android micro-console, but this could lead to some very interesting things down the line.