Breaking: More info on GIGABYTE's impressive Z170x-Gaming G1
The GIGABYTE Z170X-Gaming G1 is here with Intel USB 3.1, 120+ dB Certified Sound Core3Di, and Killer Double Shot Pro X3,
Published Wed, Jun 3 2015 5:52 PM CDT
|
Updated Tue, Nov 3 2020 12:06 PM CST
Adding to yesterday's exclusive release of the GIGABYTE Z170X-Gaming G1 motherboard, our man on the ground Steven Bassiri went for a closer look and this is what he discovered.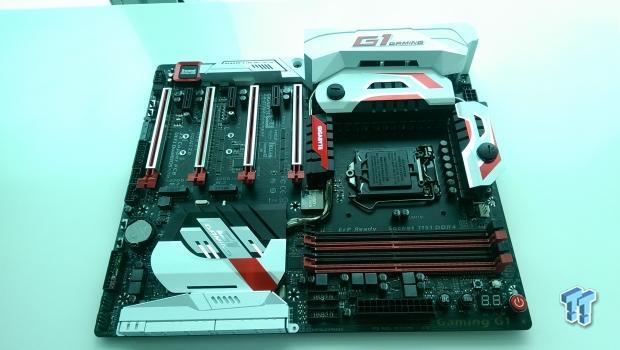 Today GIGABYTE showed off its top of the line next generation gaming motherboard, the Z170X-Gaming G1. Off the bat you can tell that the board is totally different than anything GIAGBYTE has done before. To start things off GIGABYTE has added RGB LEDs to the board and through an application you can control them and make them whatever color your heart desires.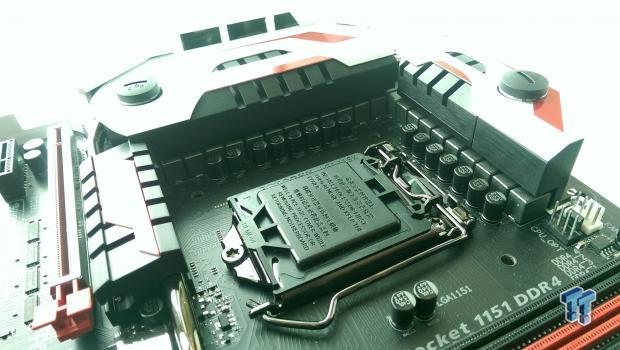 A nice mix of white shielding and red slots add to the aesthetic appeal of the product. While we don't know too much about the product, we do know a few things. First off the 20 phase (16+4) VRM is powered by IR components and PowIRstages. The memory also seems to use an IR PWM and powerstages. The heat sink has built in watercooling as well.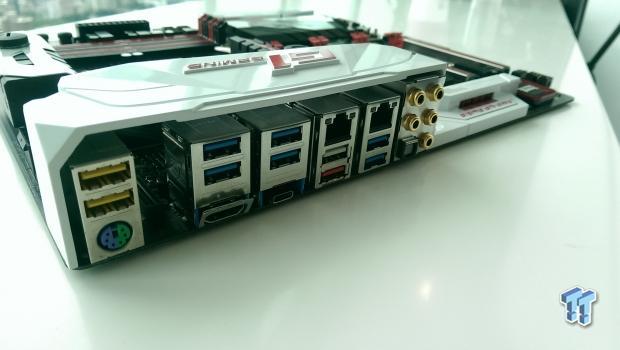 GIGABYTE is not utilizing the ASMedia controller everyone else is using for USB 3.1, instead they went with Intel's 3rd generation Thunderbolt/USB 3.1/DP combo controller, which offers some cool features through the USB 3.1 Type-C connector. Over USB 3.1 type-C both thunderbolt and DP 1.2 are supported, with a whopping 40Gbps of bandwidth.
GIGABYTE is employing something called Killer Double Shot Pro X3 which can only be done using Killer NICs and Killer wireless AC. The system will automatically reallocate critical bandwidth to the fastest link such as a game, then secondary bandwidth like youtube will go to the second fastest link, and then everything else like updates will go to the slowest connection.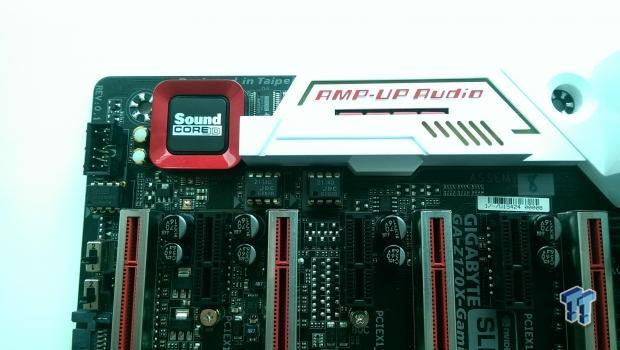 The audio has been totally revamped, and while it still uses the Core3Di chipset, it has some major enhancements. First off there is a Burr Brown DAC (127dB SNR) and many OP-AMP sockets (one per channel for the back panel, and a 3rd for the front audio output) which allow for even more customization and cleaner playback. Creative has also certified the board to have 120+ dB SNR playback capabilities. The new implementation is like that of the Sound Blaster Z cards. GIGABYTE has also added some WIMA film capacitors along with the Nichicon gold electrolytic capacitors.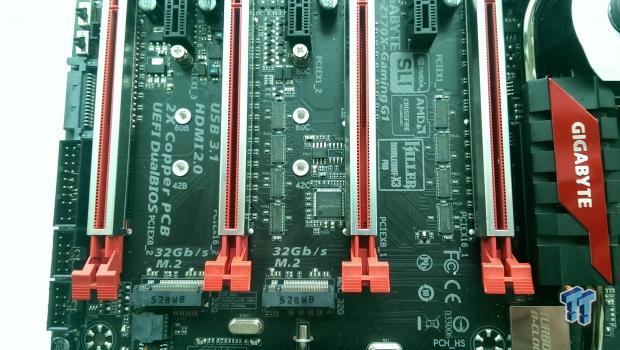 You might have also noticed the metal around the PCI-E slots, which is for protection against heavy GPUs and it does seem to add to the aesthetics as well. A small B-Clock cover is possibly hiding a secondary clock gen for better BCLK overclocking. There are also two 32Gb/s M.2 slots, I calculate that the only way to get 32Gb/s is through four PCI-E 3.0 links like is currently done on many X99 motherboards. The board has dual BIOS as well as USB BIOS recovery options.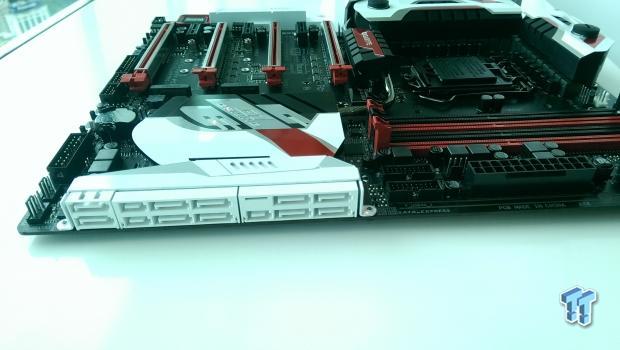 There are a total of 3 SATA Express ports, of course you can use the ports as normal SATA as well.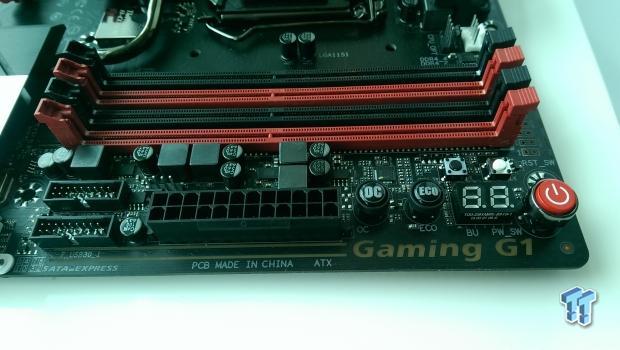 GIGABYTE has kept with their practice of providing OC features on their gaming boards. Adding to the typical power, reset, clear CMOS, and POST code display as two bigger buttons. The first will OC the system automatically and the second, labeled "ECO" will down-clock the CPU to save power. On the south side of the motherboard are the dual BIOS and dual BIOS mode selector switches as well.
Related Tags