ARM to shrink down to just 10nm with its Ares SoC in 2016
ARM's upcoming Ares will be shrunken down to a teeny tiny 10nm.

Published Tue, May 19 2015 5:41 AM CDT
|
Updated Tue, Nov 3 2020 12:07 PM CST
Samsung is currently sitting at 14nm technology inside of its Galaxy S6 and Galaxy S6 edge smartphones, but we won't stay there for long if ARM has any say in the matter.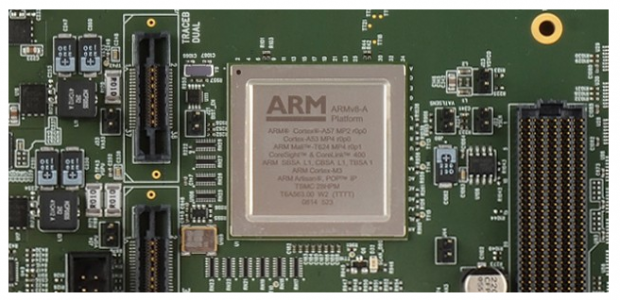 ARM is reporting set for the Ares core to hit just 10nm, something that will "reach smartphone and tablet makers by the end of next year". Ares will be here first with 10nm, but ARM is already teasing its successor: Prometheus. Prometheus will consume just 600-750mW of power, but Linley Gwenapp from analyst firm The Linley Group, believes that Ares will still have a place in the world.
Gwenapp said: "Ares core could reach smartphone and tablet makers by the end of next year. ARM is already well advanced on a next-generation high-end CPU that will follow the A72. In fact, this project is so far along that the A72 team could 'steal' some portions of the next-generation design. For example, a new floating-point unit reduces latency by 33%. The prefetcher, also from the next-gen design, improves the data-cache hit rate to boost performance. The next-gen branch predictor reduces mispredictions by 20%".
At the moment, ARM's latest chip is the Cortex-A72, which will be baked into mobile devices in the second half of next year. We should expect Ares to be unveiled in 2016, with it finding its way into smartphones and tablets sometime in 2017.
Related Tags