Samsung Galaxy S6 Edge Review - A Phone From The Future
Samsung has created one of the best smartphones ever. The Galaxy S6 edge isn't just one of the best Android phones, it's one of the best phones out.

Published
11 minute read time
TweakTown's Rating: 93%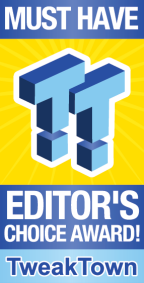 The Bottom Line
Samsung has crafted the Lamborghini of smartphones with the Galaxy S6 edge. A total departure from their previous handsets, with an all-class, super-powerful smartphone that edges past the competition.
Introduction, Specs and Availability & Price
I'm going to start my review off with this: I hate Samsung smartphones. I really do. The Galaxy S3 was good, but the Galaxy S4 was nothing that interested me. I felt, and still feel that Samsung seriously dropped the ball with the Galaxy S5. The company may sell the most smartphones of any other company on the market, but it doesn't mean their devices are made of quality.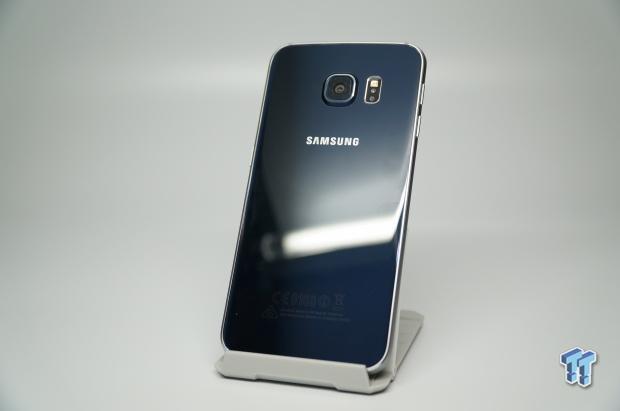 Whereas its main competitor, Apple, has been engineering beautiful devices since day one - Samsung hasn't had an eye for design, until now. The previous Galaxy handsets - not including the Note range - have been plastic toys compared to the Galaxy S6 edge. It's almost like Samsung was playing around with consumers' hearts with the previous handsets and the Galaxy S6 edge is the real deal. This is coming from someone who has steered clear of Samsung handsets in my personal life for quite some time now, as I have been thoroughly loving what Sony has been doing with the Xperia smartphones, and LG with its G3 and soon-to-be G4 smartphone.
Samsung knew it had to do something, and it really changed things up with the Galaxy S6 and Galaxy S6 edge, which is where we are today. The new smartphones have only been out for a few days now, but I pre-ordered one of the Galaxy S6 edge 64GB smartphones last week and I have now had a little over 48 hours of solid use of it and I can easily say: I'm in love.
Specs
Before we take a look around the smartphone and just how damn beautiful it is, and how amazing it feels in my hands, let's gloss over what Samsung has managed to cram inside of its best handset to date. Inside, we have some serious components and capabilities, such as an 8-core processor and some seriously snappy storage.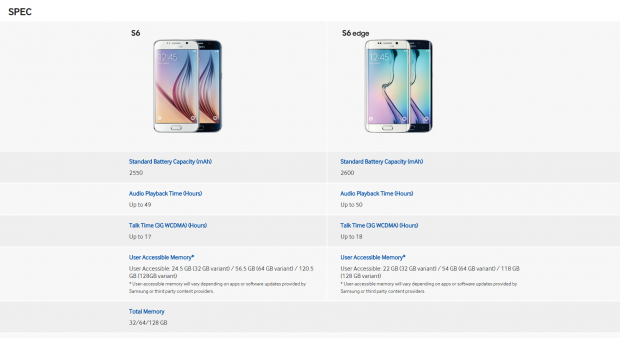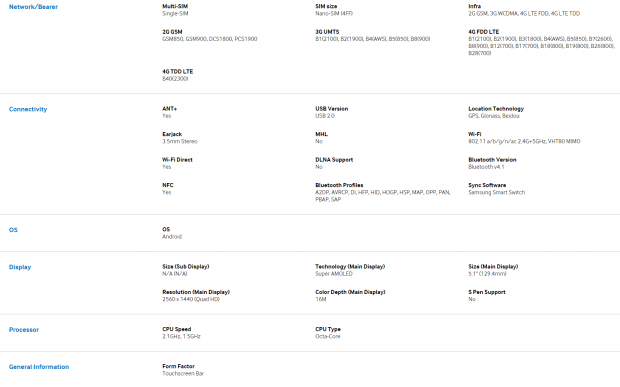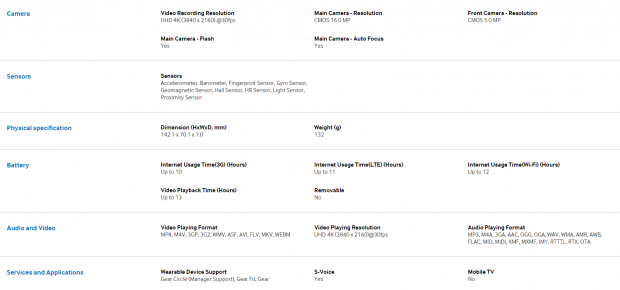 Starting with the elephant in the room, the 5.1-inch QHD Super AMOLED display with a resolution of 2560x1440 and a pixel density of 577 PPI. The display on the Galaxy S6 edge is protected by Corning's latest and greatest Gorilla Glass 4, too. We have 3GB of RAM, and an 8-core processor thanks to Samsung's own Exynos 7420 (which is made up of a quad-core 1.5GHz Cortex-A53 and quad-core 2.1GHz Cortex-A57).
There's three storage options to choose from: 32GB, 64GB and 128GB, but no expandable storage. Samsung has decided to remove the microSD card slot - which is a great thing for the device itself, but a big selling point that people are going to miss from previous handsets, and something that will lose Samsung some sales.
On the outside, we have an amazingly capable 16-megapixel rear-facing camera with optical image stabilization (OIS) and up front, we have a 5-megapixel shooter for those all important selfies. Both cameras are some of the best snappers that I've used in a smartphone yet - bringing Samsung up to the quality and speed of Apple's cameras in the iPhone, and beating them in some ways.
Samsung has finally provided wireless charging on the Galaxy S6 edge, but there's also fast-charging - which is something we're going to go into more detail about later. The fast-charging capabilities on the Galaxy S6 edge are a selling point in their own, as is the wireless charging capability. There's 4G LTE Cat6 support, as well as Wi-Fi 802.11 a/b/g/n/ac, dual-band, Wi-Fi Direct and more.
Availability & Price
Depending on where you live, what carrier you want to join (or whichever one you're already with), and the storage option on the Galaxy S6 edge, the pricing will vary. In the US, you're looking at around $299 up front for the 32GB version with Verizon, while the 64GB is $399 up-front, and the 128GB chimes in at $499 up-front.
If you want to go off-contract, it's cheaper with the 32GB starting at $699 and then $100 additional for the 64GB, and another $100 on top at $899 for the 128GB model.
A Closer Look & The Best Display On a Smartphone Yet
A Closer Look
The Galaxy S6 edge is one of the most beautiful smartphones that I've ever laid eyes on, and that's coming from someone who did not think much about any of the previous handsets. From top to bottom, Samsung has spared no expense in making this their best smartphone yet.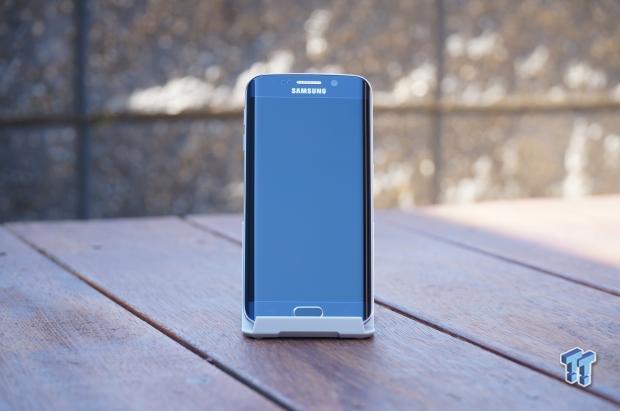 Starting at the front, we have the 5.1-inch QHD display protected by Gorilla Glass 4. At the top, we have the 5-megapixel front-facing camera, earpiece, and sensors. Down the bottom, we have the Home button and fingerprint scanner, to the left of it the multitask button and to the right, back.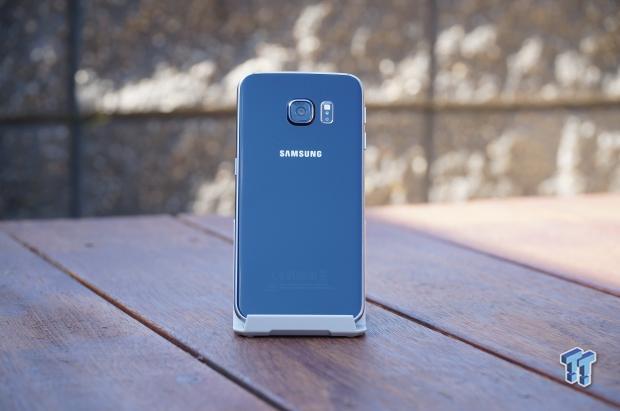 On the back, we have some Samsung branding in the center, and above that the impressive 16-megapixel rear-facing camera with OIS. To the right of that, we have the LED flash and a health sensor that records your heartbeat.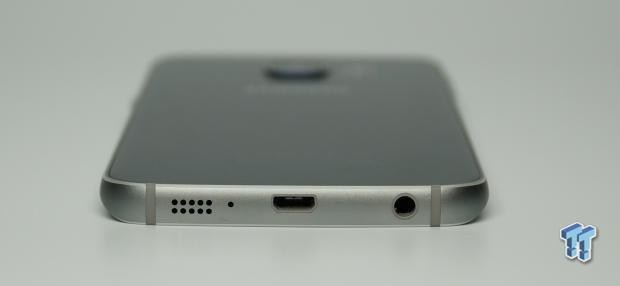 On the bottom of the Galaxy S6 edge, we have from left to right: the speaker grill, microUSB port for charging and syncing (which is also fast-charging capable) and the 3.5mm audio jack for headphones or speakers.

To the left, we have the volume up and down buttons.

On the right of the S6 edge, we have the power button.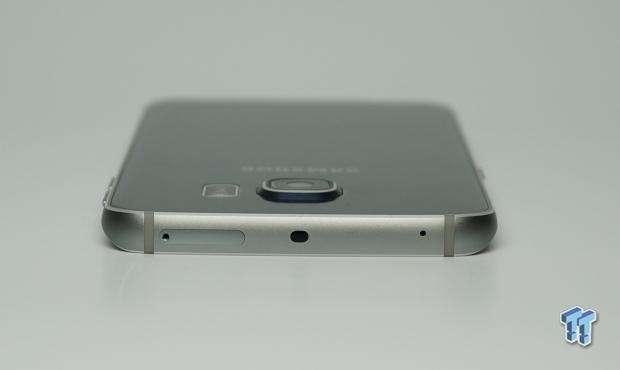 On the top of the handset, we have the nano SIM card port.
The Best Smartphone Screen Ever
I'm such a display aficionado, in all forms. My workstation PC has an LG 34-inch ultra-wide 34UC97 monitor, which is one of the best you can buy. I'm a big fan of high-resolution, super-detailed displays in all forms. So, when I turned the Galaxy S6 edge on and began to play around with it, I fell head over heels in love with it.
Rocking a 5.1-inch QHD sAMOLED panel, this is Samsung's best display yet. With its 2560x1440 resolution and 577 PPI, it is packed from edge-to-edge with an array of beautiful pixels. The dual-edge display really lends a hand to its uniqueness, with full-screen Full HD videos on YouTube bleeding out to the edge creating an almost 3D effect. It's quite stunning to see in person.
All of the numbers in the world can provide you with a sense of what to expect, but seeing it in person is just something different. The display absolutely pops with clarity, with gorgeous colors and crispness that is unparalleled. We're talking about a display that makes the iPhone 6 Plus display become second best, which is something worth talking about.
How It Feels & Capabilities
Samsung's Best Smartphone Yet Also Feels Great
All of those internal specifications are great: we have an 8-core processor, 3GB of RAM, a QHD sAMOLED panel and so much more - but how does it feel in your hand? Samsung has crafted its most premium smartphone yet, replacing the pathetic plastic on its previous flagship smartphone with metal and the gorgeously smooth and super-protective Gorilla Glass 4.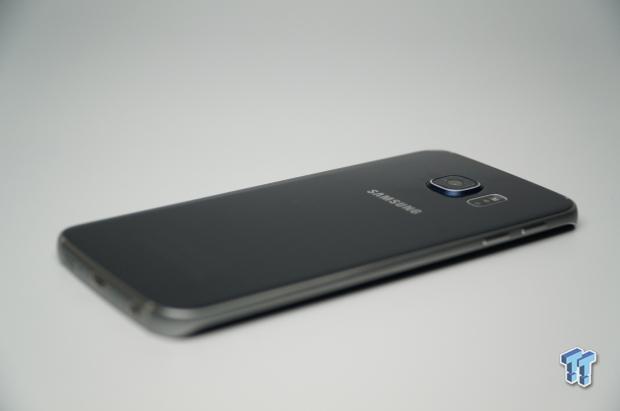 It is the most luxurious handset I've ever felt, with both the front and back of the Galaxy S6 edge feeling absolutely incredible. I hate using superfluous words to describe the Galaxy S6 edge, but they're warranted. Samsung has earned respect here, and it needs to really be a point that is pushed across: Samsung has made one of the best designed smartphones ever with its Galaxy S6 edge.
There's a metallic band around the entire handset that makes holding the Galaxy S6 edge nice and comfortable, and it's thin enough with its 5.1-inch display that it never, ever feels too big. The same can't be said for the Galaxy Note 4 and its 5.5-inch display, or the iPhone 6 Plus with the same size 5.5-inch panel. Those two smartphones are far too big, and for all the things Apple did to get a bigger smartphone onto the market, the iPhone 6 Plus is just too big, and always felt too big and weird to hold.
Samsung has escaped all of that deploying the 5.1-inch display onto the Galaxy S6 edge, which is just absolutely the perfect display size for a smartphone. Anything bigger, and it would be too big. Anything smaller, and it would almost feel too small.
Capabilities
Not only has Samsung crafted one of the best smartphones out, but it has crammed it full of so many features that you probably won't use them all. We have incredibly fast LTE capabilities, fast-charging, wireless charging, a fingerprint scanner, heart rate monitor, and so much more.
Fast-charge: Starting with the fast-charging, I drained my Galaxy S6 edge on the first day I received it down to 13% from its out-of-the-box charge of 49%. I wanted to test out the fast charge capabilities, which is meant to provide around four hours of use from 10 minutes of charge. Within 1 hour and 15 minutes, I had a fully charged Galaxy S6 edge, which is pretty damn incredible.
Heart rate monitor: This isn't something that I would buy the phone for, but it's a nice touch for the S Health side of the phone. S Health in itself is a great health monitoring application that Samsung provides, with the heart rate monitor on the back of the S6 edge being put to good use.
Edge display: I have to admit: I didn't buy the Galaxy S6 edge to use the dual edge screen exclusively, but it's a nice touch. Right now, my Galaxy S6 edge is sitting to my right displaying the time and the date on the edge of its display. A nice touch, but it's not something I would exclusively purchase the S6 edge for.
Fingerprint scanner: The Galaxy S5 had a fingerprint scanner, but it was nowhere near as good, or anywhere near as convenient as the one on the iPhone. Samsung has upped its security game with the Galaxy S6 and S6 edge, where you place your finger or thumb onto the fingerprint scanner to unlock your device. The Galaxy S5 had you sliding your finger or thumb from the top of the fingerprint scanner, to the bottom, but the S6 and S6 edge do it much better, and it's about time.
Wireless charging: Finally! Samsung has seen the light of built-in Qi wireless charging - and as so many Internet memes put it: "It's About Damn Time". Wireless charging is something I expect from any flagship handset, so kudos to Samsung.
Software & Camera
Samsung Tones Down TouchWiz
Another reason why I've been hands-off on Samsung over the years is that their TouchWiz UI is just too much for me. I love the look and feel of stock Android, but Samsung has overdone it with their UI over the years, something they've scaled back heavily on the new Galaxy S6 and S6 edge.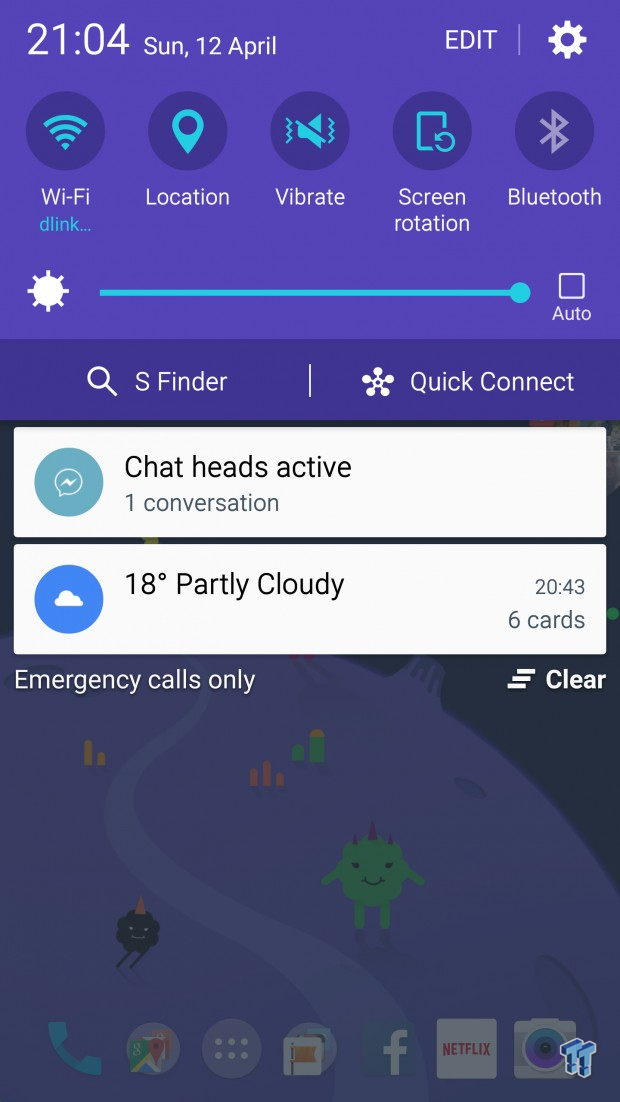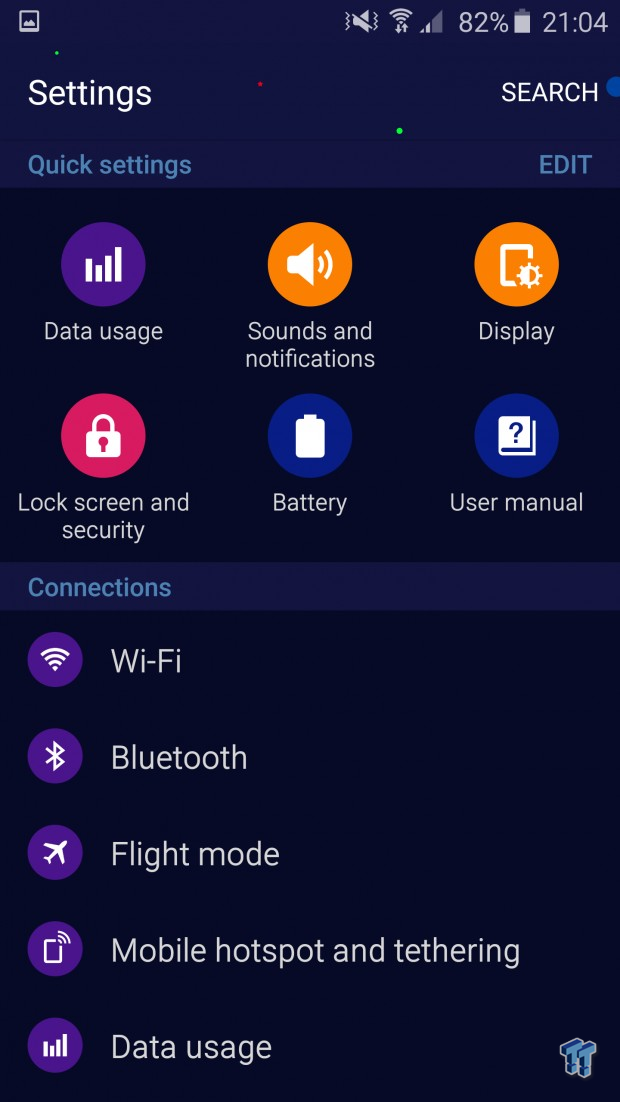 TouchWiz is still used, but it is nowhere near as strong as the previous handsets. Performance usually suffers on the S4, S5 and others - but not here, thanks to the toned down TouchWiz, the use of Android 5.0 Lollipop, and the insanely fast internals. Animations are beautifully smooth on the S6 edge, with absolutely no lag or slowdown whatsoever. This is the best implementation of TouchWiz yet, and this is from someone who utterly hates TouchWiz.
One of the things that I've done to customize the S6 edge is install Nova Launcher, which is a custom UI for Android. It bakes itself over the phone and provides some better customization of the user interface, such as smaller icons, more dock icons, and more. It just tips the UI over the edge and makes it so much better to work with.
Camera - Nothing Less Than Impressive
Another reason Apple has always won the camera smartphone game is that they make a great camera sensor. Even the new iPhone 6 Plus uses an 8-megapixel sensor, so we're limited to 1080p video capture, but Samsung provides a 16-megapixel, 4K-capable rear-facing camera. Shooting video at 3840x2160 will chew up a bunch of internal storage, but for video fans, it'll be worth it.
For the most part, I was shooting still images - which I was nothing short of amazed with. Until now, I had been using the Sony Xperia Z2 and just getting into the Xperia Z3 - and thought that was one of the best camera phones on the market. Well, Samsung has one upped both Sony and Apple at their own game by baking in an incredibly versatile set of cameras in the S6 edge.
One of the areas that Samsung, and many others, lose out in is low-light photos - something Apple has excelled in. But again, that is, until now. The S6 edge blows the lid on camera phones, and for a good reason - the S6 edge has an amazing camera. Instead of writing about how good it is, I'm going to show you how great it is with a bunch of photos (uploaded uncompressed) I've snapped over the last couple of days:
Battery Life & Where Samsung Has Gone Wrong
Battery Life
After a couple of days of solid use, I have to say that I'm actually impressed with the battery life on the Galaxy S6 edge. I had posted some first impressions onto our Facebook page on the first day, with the battery life disappearing quick.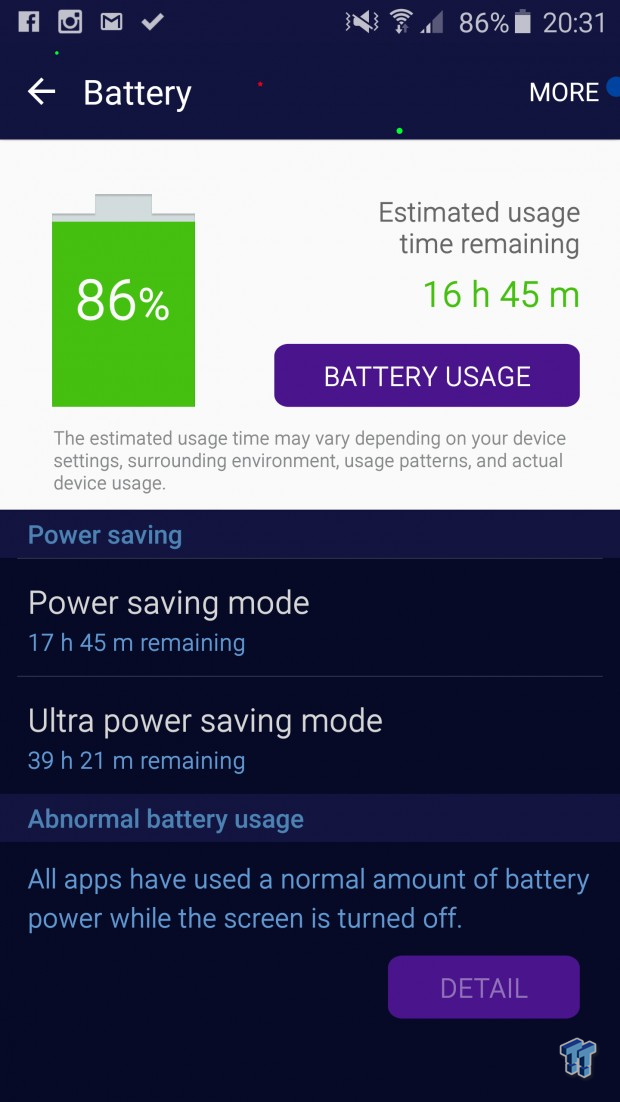 I had my Google account being restored to the device, so all of my settings, applications and more were being synced at the time. After a couple of days of real-world usage, the battery life began moving into a better rhythm and extending its life past 12 hours of normal usage.
I can't be too critical on the battery life just yet, as you need a good week or two at the absolute bare minimum to have any judgment on the battery life. But for the first 48 hours or so, the battery life has been impressive.
Samsung Made Some Mistakes Getting Here
Keyboard: The first thing that I did to my Galaxy S6 edge once it was all synced with my Google account was install and setup SwiftKey. Samsung's excuse for a software keyboard is just so bad, I don't know how people can use it and enjoy it. My advice: install SwiftKey, and never go back, ever.
No SD card slot: This is forgivable, as the iPhone doesn't have it and some people are completely fine with that. I've never been one to use an SD card in my phone, as I will just remove it all and throw it into my Google Drive account (or onto my PC or NAS) and then free up that space. But, for some people, this is a game-changing part of the S6, and S6 edge - the removal of the SD card slot.
Noisy Home button: I don't know how Samsung got away with this, but the Home button makes an almighty loud sound when it's pressed down. It's annoyingly loud.
Final Thoughts
After 48 hours or so with the Galaxy S6 edge, I'm more than impressed. It's a no brainer for me to recommend the S6 edge to anyone who is in the market for a new smartphone. The S6 edge is a no holds barred smartphone of pure luxury, something that can finally compete against the iPhone in a way that Samsung has never been able to do before.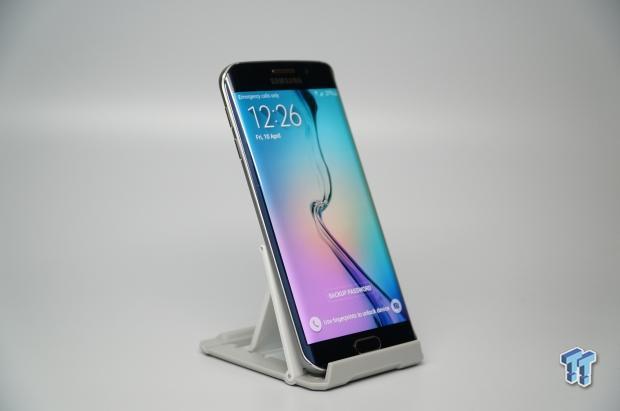 Last night, I found myself marveling at the S6 edge. Just rolling it over in my hand, glossing over its beautifully smooth Gorilla Glass 4 protected display, and its just-as-smooth backing. The sides are kept together with a super solid metal, which also gives the S6 edge an insanely gorgeous finish. The edge screen itself may not be super useful, but holy hell does it look amazing. It's a smartphone that catches your eye, and it's something you don't want to put down once it's in your hand. I can't say that about any other smartphone I've used, and I have used nearly every flagship pumped out.
Apple makes great phones, they really do. The iPhone is a beautifully engineered smartphone, but it's so heavily flawed. iOS is just such an Apple wrapped garden that I can't enter it. Android is customizable, but Samsung used to throw in its ball and chain TouchWiz UI, which ruined the entire experience. This isn't the case with the S6 edge, in both the hardware and software.
This is a completely new direction for Samsung. It's exciting, and it gives me faith for the future of the South Korean giant. The S6 edge almost feels like it's too new. It's too raw. Every review that I've read of it glosses over it, which is so weird to see for Samsung. Normally every iPhone review is "the best iPhone yet", "marvelous 10/10", "Apple does it again", but these same people are saying very similar things about the Galaxy S6 edge.
Why? Because it's true. The Galaxy S6 edge is Samsung's very best smartphone yet. It is the new Lamborghini of smartphones. It feels so fresh and so new that it feels like Samsung has reached out into the future by 2-3 years, and pulled something back through time and space, and released it as the S6 edge. I'm head over heels in love with the Galaxy S6 edge, which is something I really didn't think I would be saying just a few weeks ago. The S6 edge is a remarkable fusion of great design, next-gen technology, and a stripped raw and improved handset that Samsung should be very, very proud of.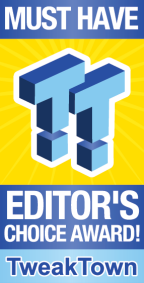 | | |
| --- | --- |
| Performance | 95% |
| Quality including Design and Build | 95% |
| General Features | 95% |
| Bundle and Packaging | 90% |
| Value for Money | 90% |
The Bottom Line: Samsung has crafted the Lamborghini of smartphones with the Galaxy S6 edge. A total departure from their previous handsets, with an all-class, super-powerful smartphone that edges past the competition.
PRICING: You can find products similar to this one for sale below.

United States: Find other tech and computer products like this over at Amazon.com

United Kingdom: Find other tech and computer products like this over at Amazon.co.uk

Australia: Find other tech and computer products like this over at Amazon.com.au

Canada: Find other tech and computer products like this over at Amazon.ca

Deutschland: Finde andere Technik- und Computerprodukte wie dieses auf Amazon.de
We openly invite the companies who provide us with review samples / who are mentioned or discussed to express their opinion. If any company representative wishes to respond, we will publish the response here. Please contact us if you wish to respond.