GTA V maxed out on triple 4K monitors requires 14GB of VRAM
We test out Grand Theft Auto V on triple 4K monitors at 6480x3840 to find out it requires over 14GB of VRAM.

Published Fri, Apr 17 2015 2:35 AM CDT
|
Updated Tue, Nov 3 2020 12:08 PM CST
Exclusive: We are knee deep in our benchmarking of Grand Theft Auto V, where we've benchmarked it on various VGA cards at 1920x1080 (1080p), 2560x1440 (1440p), 3840x2160 (4K) and even 6480x3840 (triple 4K).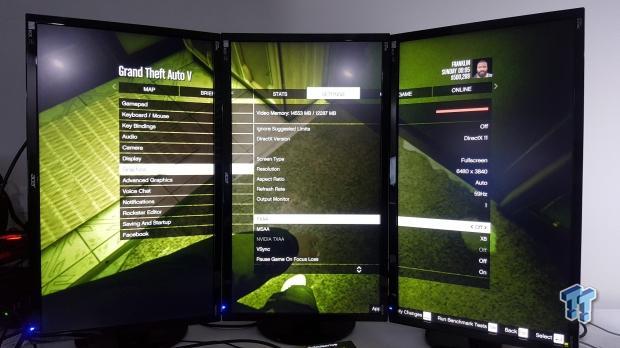 During our testing, we were pushing our VRAM usage up to around 7GB or so, but it was when we had our triple Acer XB280HK monitors in NVIDIA's 4K Surround that we saw something that had our jaws drop: 14GB of VRAM was being used. Yes, Grand Theft Auto V at maxed settings at 6480x3840 with anti-aliasing enabled has the game using 14GB of VRAM, and beyond.
Related Tags