Researchers, Houston Zoo give Smaug the Komodo dragon an orthosis
Researchers from the Baylor College of Medicine teamed with the Houston Zoo to give Smaug the Komodo Dragon an orthosis to fix a foot problem.
Published Apr 14, 2015 4:20 PM CDT
|
Updated Tue, Nov 3 2020 12:08 PM CST
The Houston Zoo and Baylor College of Medicine teamed up to help Smaug, a 16-year-old Komodo dragon, use his right foot more effectively. The custom spring-loaded and rubberized orthosis is made of a flexible material that can be easily taken off and off by zoo caretakers.
The 7-foot, 200-pound animal struggled because he was unable to use his muscles to pull his right foot forward properly, and would land awkwardly - essentially causing him to roll his wrist underneath of his heavy weight with each foot step.
"About a year ago, we noticed that Smaug wasn't using his right, front foot normally and that occasionally he was flipping it underneath and walking on the top of his toes," said Dr. Lauren Howard, associate veterinarian of the Houston Zoo. "So that started the last year-and-a-half of our diagnostic investigation into what was going on with him. We're still trying to determine why he's not holding his foot the right way, but in the meantime our goal is to keep him holding his foot upward so he doesn't continue to walk on the tops of his toes."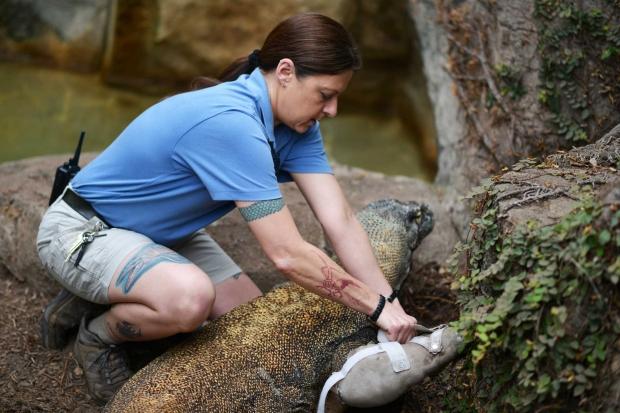 Related Tags