Australian politician makes harsh metadata joke attack to journalist
Australian Liberal politician Jamie Briggs jokes that he will use metadata to attack political journalist.
Published Mon, Apr 6 2015 2:14 AM CDT
|
Updated Tue, Nov 3 2020 12:08 PM CST
Liberal politician, Federal Member for Mayo and Assistant Minister for Infrastructure and Regional Development Jamie Briggs made a joke about the wrong subject when engaging in a Twitter conversation with political journalist Bernard Keane recently, stating that he will search through Keane's private metadata in order to 'dig up some dirt'.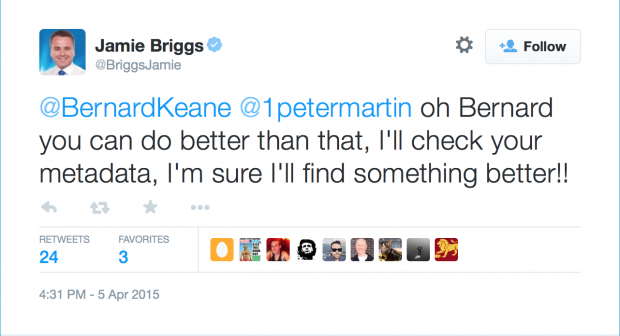 This incident comes soon after news that the Government will have the unwarranted right to search phone and internet records for all Australian citizens from the past two years.
Although Briggs may see this as a lighthearted joke towards a critic, many users online are furious that this joke has even taken place, further labeling it as the 'harsh reality' that our future generations will have to face.
Originally seen on Reddit's Australia sub-forum, one member labelled this attack as "instantly not funny," with another pointing out that "This isn't a joke, this is something that no one - especially a politician - should joke about. Privacy to see things without fear of repercussions something that we as a nation have recognized as something to protect in our NPP 8: anonymity."
While some people have likened this attack to jokes about terrorism and rape culture, it seems that Briggs has removed the tweet from his account.
UPDATE: We have received clarification that although this was positioned as a joke, it is a legality that a journalists' metadata requires a warrant to search as per legislation.
Related Tags