AppleCare+ warranty for the $10,000 Apple Watch Edition costs $999
Apple will charge $999 for the AppleCare+ warranty on the $10,000 Apple Watch Edition.

Published Sat, Apr 4 2015 3:35 AM CDT
|
Updated Tue, Nov 3 2020 12:08 PM CST
After you've shelled out $10,000 for the 18-karat gold Apple Watch Edition, you'll want to have some high-end protection for it, right? Be prepared to spend another $999 for the AppleCare+ protection on that $10,000 smartwatch.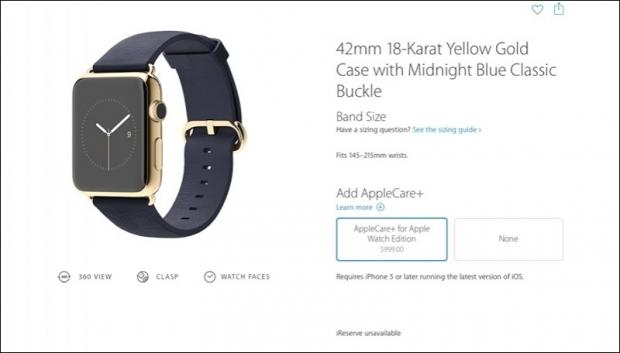 The AppleCare+ protection for the Apple Watch Edition will add another year to the two-year technical support you'll receive, and accidental damage cover for up to two incidents. We don't know how much Apple will charge for repairs to Watch under their AppleCare+ plan, but if it's anything like the accidental damage claims with the iPhone, it should be around $79 or so.
Related Tags