Intel expects 10nm by late 2017, with silicon being abandoned at 7nm
Intel says that by 7nm it will be done with silicon, but before then we can expect 10nm in late 2016 or early 2017.

Published Tue, Feb 24 2015 10:37 PM CST
|
Updated Tue, Nov 3 2020 12:09 PM CST
Intel will be providing more details on its upcoming 10nm manufacturing process this week at the 2015 International Solid-State Circuits Conference (ISSCC), and how its new research will continue pounding on the door of Moore's law when it hits 7nm, and beyond.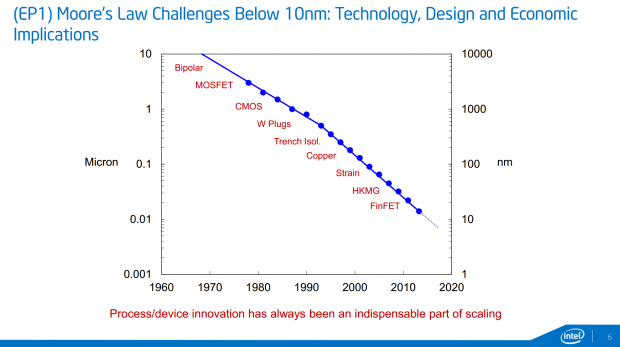 The chipmaker expects to provide the first 10nm-based processors late 2016 or early 2017, as the company is hoping to dodge the delay train it hit with Broadwell at 14nm. Before 10nm is even here, Intel is teasing 7nm, saying that it will need to use new materials in order to build it. This means that 10nm will be the last product Intel builds using silicon, with Intel eyeing down a replacement for silicon, such as III-V semiconductor, such as indium gallium arsenide (InGaAs).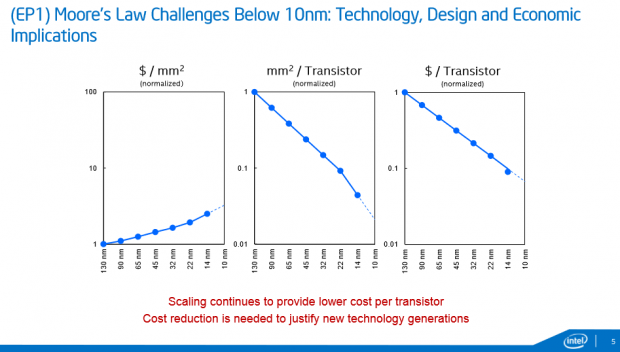 Then we have even more interesting points of Intel's shift to 7nm, which could see the company using new types of packaging. This includes 2.5D, which is something AMD is using on its upcoming Radeon R9 390X which uses HBM memory. 2.5D has separate dies which are placed side by side on an interposer. Intel would also be looking at 3D, where each die is stacked directly on top of one another. When it comes to 10nm, Intel is hoping to continue pushing Moore's law against the wall, all while reducing the price per transistor. 7nm is going to be a very exciting milestone, as it will shift away from silicon that has been used for decades now. Imagine the possibilities of a 3D stack of 7nm dies... that should have any enthusiast begging for more.
Related Tags