Toshiba's new SSHD prototype unexpectedly pops up at CES 2015
Toshiba just announced their new SSHD models, and though they aren't showing it, we managed to sniff out a prototype.
Published Wed, Jan 7 2015 9:26 PM CST
|
Updated Tue, Nov 3 2020 12:11 PM CST
CES 2015 -Toshiba has announced a new SSHD (Solid-State Hybrid Drive) featuring Toshiba's A19nm NAND. We actually found the Toshiba SSHD hiding out in another manufacturers booth, so we had the chance to grab a few pictures. Please note that these may not be final production run models. The Drive Revision number AAA indicates that this is likely not the final product. The new series consists of two drive models. The MQ02ABD100H features 1TB of capacity, and the MQ02ABF050H we found comes with 500GB of capacity.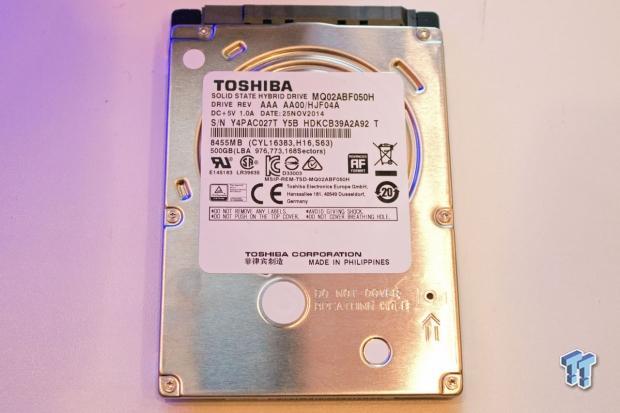 The 500GB model pictured above comes with a slim 7mm z-height, and the 1TB model features a 9.5mm z-height. SSHD's have a small complimentary amount of NAND, and hot data is dynamically placed on the faster NAND media. This provides tremendous performance advantages, while still delivering plenty of capacity. Both models can be used for high-performance computers, but the 500GB model is also an obvious fit for mobile applications.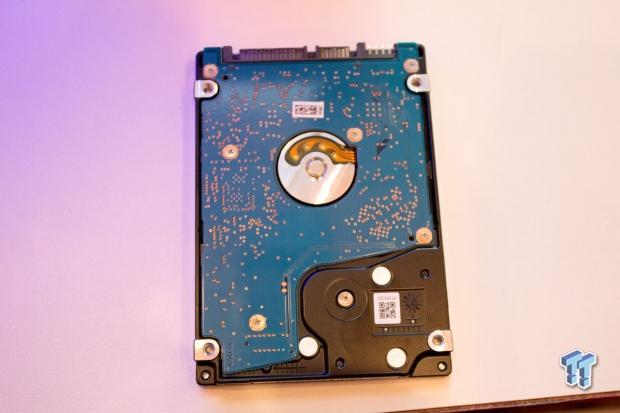 This new revision differs from previous Toshiba SSHDs, which used separate controllers to manage the HDD and the NAND. On the new models the onboard NAND is also controlled by the drive's HDD controller chip. Merging these functions will reduce design complexity and also likely draw less power, and with the mobile-oriented design of the 500GB this will help to improve battery life. Yes, we asked to remove the PCB for a closer look at the new implementation, but that request was denied. Toshiba is the only HDD manufacturer with NAND fabrication capabilities, they actually invented NAND, and flash will comprise nearly half of their revenue by the end of the fiscal year. It would be natural to assume there will be more refined integration between Toshiba NAND and HDDs in the future.
Shipments begin in February 2015, so look to these pages soon for a full product evaluation.
Related Tags