LG to show off their new Wi-Fi Music Series at CES 2015
LG's new Wireless speaker setups look great, but how much will they cost?
Published Mon, Dec 22 2014 10:58 PM CST
|
Updated Tue, Nov 3 2020 12:11 PM CST
LG are looking to show off a full new series of gear at the upcoming world-class technology exhibition, CES 2015. Their new range of Wi-Fi units will be out in force - including products such as speakers, Sound Bars and Blu-ray players.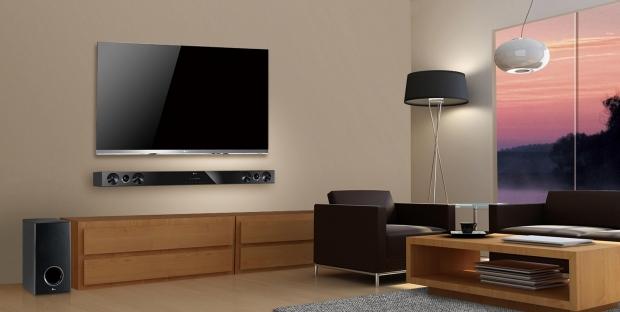 Their first foray into the battery-powered Wi-Fi speaker market will be displayed, seeing their Model H4 Portable speaker being showcased, alongside their HS7 and HS9 Sound Bars and an interesting wireless Blu-ray player called the BP550. All of the speakers on display have been announced as compatible with both Android and iOS devices.
These new LG units will be able to connect to one another wireless or work independently, meaning you can setup a wide network of speakers across your house, room or establishment without the need for wiring. As their H4 potable is battery powered, this is great for setups in public areas and small gatherings of friends as you can simply pick them up when you leave.
Furthermore, the LG H4 Portable is claimed to include two Wi-Fi Sound Bars set to deliver premium rich and full sound to the consumer. This is comparable to their HS7 Bound Bar which provides HD sound and their HS9 that provides deep acoustics.
LG's BP550 Streaming 3D Blu-Ray Player contains the ability to be connected to any of these wireless speakers, meaning you can setup a surround-sound style build in your house without the need for wires to be run through your walls, floor or roof.
Byung-hoon Min, senior vice president and head of the CAV division at the LG Home Entertainment Company looks forward to this showcase. He commented that "The flexibility and quality of the LG Music Flow Wi-Fi Series delivers a listening experience that goes beyond what conventional audio systems have been able to offer until now. With Wi-Fi capability and high-fidelity audio output, our Music Flow Wi-Fi Series is the epitome of what a smart audio system should be capable of in the 21st century."
Related Tags