NASA Mars Opportunity rover experiences flash storage failure
The Mars rover Opportunity's problems stem from a flash storage failure.
Published Mon, Dec 15 2014 9:08 AM CST
|
Updated Tue, Nov 3 2020 12:12 PM CST
Much like most other equipment launched into space, the NASA rover Opportunity utilizes tried-and-true flash memory for data storage on its trek across the surface of Mars. Flash memory isn't as susceptible to vibration as other forms of data storage and operates better in temperature extremes, which works out great for equipment hurling its way through the cosmos. The rigors of spaceflight and the surface of Mars can push even the most durable equipment to the edge, as witnessed by the latest round of memory failures onboard the Opportunity rover.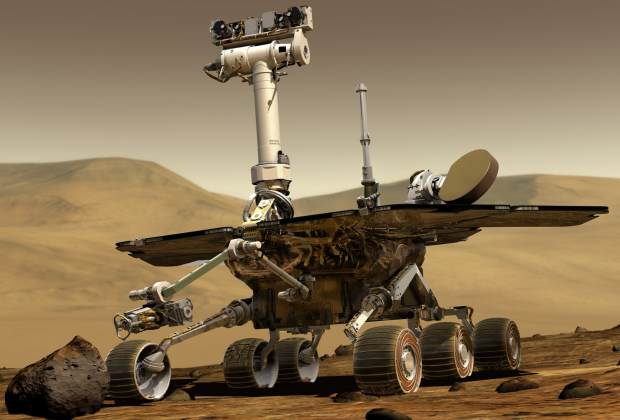 Scientists reformatted the flash memory on the resilient little rover over the weekend, but things didn't go quite as planned. Now the rover is suffering from amnesia events and system resets. NAND is a persistent memory technology, it can retain data even without power, unlike RAM. The rover stores all data collected during the day in its onboard RAM memory, but when the rover 'sleeps' at night that data is typically copied over to NAND flash storage. The problems encountered during the flash formatting have placed the rover in a RAM-only mode, and data has to be beamed off to Earth each night before sleep. Scientists are working diligently to code a workaround that will avoid using one of the seven banks of NAND that is experiencing the issue.
"The mission can continue without storing data to flash memory, and instead store data in volatile RAM," said Mars Exploration Rover Project Manager John Callas or NASA's Jet Propulsion Laboratory, Pasadena, California. "While we're operating Opportunity in that mode, we are also working on an approach to make the flash memory usable again. We will be sure to give this approach exhaustive reviews before implementing those changes on the rover."
The Opportunity rover is far beyond its projected lifespan and has been perusing the surface of Mars since 2004. Its current mission takes the hardy little rover to the southwest rim of Endeavour Crater to study clay minerals detected by the Mars Reconnaissance Orbiter.
Related Tags