Digital Storm has just taken the wraps off of its new Eclipse PC, a new small form factor PC that is "designed to offer a premium gaming experience at an affordable price" with its $699 starting price.
The new Eclipse PC has a small footprint of just 15 x 4 x 14 inches, so it can be used on most shelves either laying down or standing up. The chassis that Digital Storm have used is constructed of reinforced plastic with a steel body. Every pre-built Eclipse comes with a full-sized video card and Intel processor.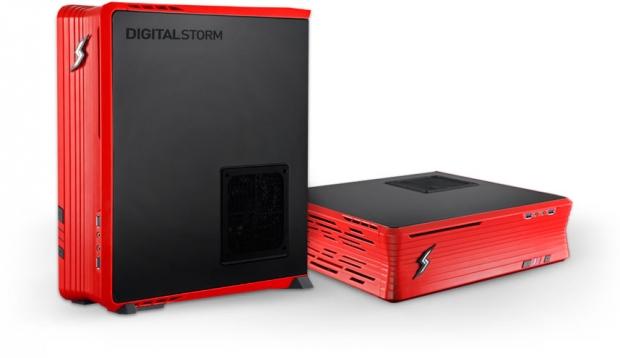 There are four levels of system to choose from, with each level including 8GB of 1600MHz DDR3 RAM and Windows 8.1 as its operating system, with the first three systems including a 1TB 7200RPM HDD and optional optical drive. Starting at $699 we have an Intel Pentium processor, AMD Radeon R7 260X 2GB GPU and H97 chipset motherboard. For $200 more you can upgrade to the R9 270X 2GB and Intel Core i3 4350 processor. For $999 you get the NVIDIA GeForce GTX 760 2GB and Core i5 4590 processor, while the $1299 option bumps it up to the GTX 970 and Core i5 4690K while offering a Z97 chipset, 120GB Samsung EVO SSD, 1TB 7200RPM HDD and a DVDRW drive.
The new Digital Storm Eclipse is available starting at $699, directly from their website.