Seagate 8TB Archive HDD listed at amazing prices
8TB drives are speeding their way to you on January 7th for an amazingly low price around $270.
Published Tue, Dec 9 2014 11:30 AM CST
|
Updated Tue, Nov 3 2020 12:12 PM CST
The pressing need for more storage at an affordable price point has just been addressed by Seagate. Numerous online vendors have begun posting pricing and shipment information for the new Seagate Archive 8TB HDD. This new drive will be available to Amazon customers on Jan 7th, 2015, and comes with a shockingly low price tag of only $267 each. Seagate has claimed that their new Archive series 8TB will offer the industries best cost per GB and watt, and from the current pricing it seems they will deliver.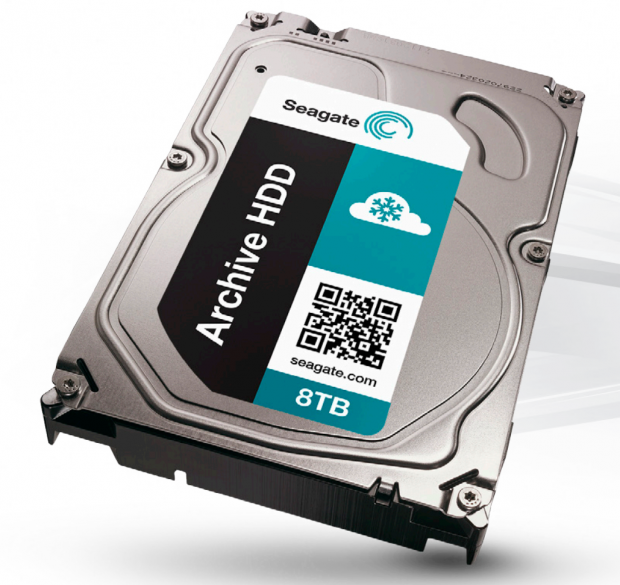 The SATA 6Gb/s Archive HDDs come in 5, 6, and 8TB capacities and offer 1.33TB of storage per platter. These drives are geared for storage over performance and feature a spindle speed of 5,900 RPM. Another key point with these drives is the SMR technology that delivers astounding density. SMR (Shingled Magnetic Recording) overlaps tracks on the platter to produce more storage capacity. Due to SMR architecture there are a few drawbacks, notably in performance and compatibility. There are two flavors of SMR coming to the forefront, drive-managed and software managed. Software-managed products require an associated API or software to allow proper function, but drive-managed offerings handle all SMR processing internally. The Seagate Archive HDD features a drive-managed format that delivers excellent out-of-the box compatibility. The Seagate DiskWizard software allows installation of the massive drives in Windows even without an UEFI BIOS.
There are secure models available to meet data security requirements, and the Archive series is geared to address online archiving, object storage, big data cold storage, and web-scale archiving requirements. The drives feature 128MB of cache, a maximum sustained data rate of 190 MB/s, and an average of 150MB/s. The two high density 6 and 8TB models have 12 heads and six platters, and the 5TB model packs eight heads and four platters. The drives features all of the usual Seagate datacenter-specific trimmings, and feature a low power draw of 7.5W operating and 5.0 Watts Idle. Sleep and standby power draw is lower than 1 watt, which is perfect for the target audience. Data reliability weighs in at 1 per 10E14 and the drives feature a workload rating of 180 TB per year with an 800,000 hour MTBF.
HGST also has 8TB drives available, but at a higher price point. The low-cost of the Seagate Archive series will likely foster some increased competition in the pricing arena.
Related Tags