PMC scores win with Lenovo ThinkServer SAS partnership
PMC-Sierra leverages their enhanced density offerings to win integration into Lenovo ThinkServer products.
Published Tue, Nov 25 2014 10:53 AM CST
|
Updated Tue, Nov 3 2020 12:13 PM CST
PMC has announced that Lenovo has selected PMC storage solutions for external connectivity in their ThinkServer product line. Lenovo is offering the Lenovo 8885E by PMC for 12Gb/s SAS applications. The low-profile MD2 form factor 8885E is an HBA that provides eight SAS/SATA ports for connectivity. HBA's are becoming more popular in the datacenter as new architectures arise to leverage scale-out storage and advanced erasure coding. PMC Sierra has been very aggressive on the SAS front and recently captured the goal of providing the most SAS ports on a single card. This has led to a leading position in the market, and PMC has currently shipped more SAS ports than their competitors.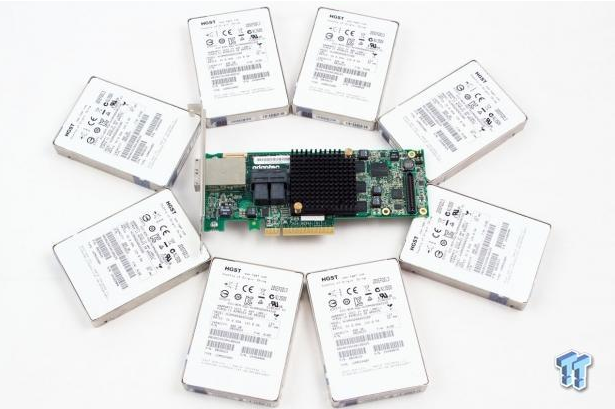 The increased density has the side effect of lower power consumption per port, which resonates well in power-constrained datacenters. PMC has measured 40% lower power consumption than their competitors with the same number of devices connected, which results in a tangible TCO reduction for their customers. As a rough guideline most datacenters spec each watt of power as an incremental cost increase of $2 dollars per year. When deploying thousands of SAS adaptors this can lead to a staggering amount of increased cost if there is a difference of a few watts per port.
12Gb/s SAS is gaining in popularity due to the bandwidth limitation of SATA SSDs. SATA is still stuck at 6Gb/s, and there are no plans to increase this in the future. SAS is cooking along at 12GB/s and provides more bandwidth for powerful solid state drives. High-Availability features also provide a more robust architecture, and until NVMe competitors can offer the same type of features SAS will continue to provide administrators tangible benefits. The Adaptec Series 8 adapters feature the PM8063 ROC, and offer great performance in a variety of workloads. We recently took the 8 Series for a test drive with 24 SATA SSDs and 8 12Gb/s SAS SSDs. Head over to our Adaptec by PMC ASR-8885 12Gb/s RAID Controller Review in the IT/Datacenter section for more in-depth coverage.
Related Tags