Man sues Red Bull because the energy drink didn't give him wings
I don't even... Red Bull settles huge $13 million US class action lawsuit because it didn't give him wings, as their marketing portrays.

Published Thu, Oct 9 2014 12:14 AM CDT
|
Updated Tue, Nov 3 2020 12:14 PM CST
Ever enjoyed a Red Bull, but wondered why you didn't grow wings? Well, so did Benjamin Careathers, who has sued the energy drink company. Careathers filed a lawsuit last year with the US District Court of the South District of New York, arguing that Red Bull mislead him and consumers about their claim that "Red Bull gives you wings", as well as the claims of increased performance, concentration and reaction speed.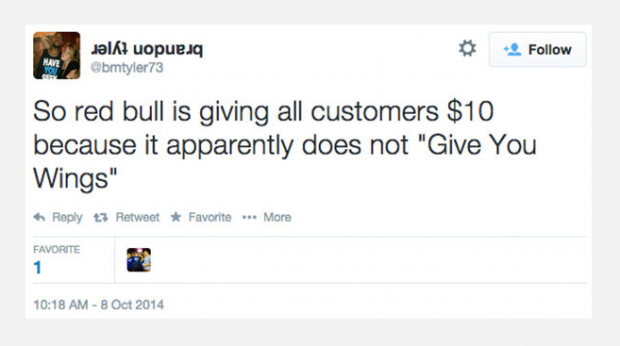 His suit argued: "Such deceptive conduct and practices mean that (Red Bull's) advertising and marketing is not just 'puffery,' but is instead deceptive and fraudulent and is therefore actionable". The result of his lawsuit? Red Bull agreeing to pay $13 million to settle the US class-action lawsuit, for his claims of false and misleading advertising.
The settlement includes many millions of people who had purchased at least one Red Bull in their life, over the last 12 years. Red Bull has offered class members the option of either a $10 reimbursement, or $15 worth of Red Bull products, which probably won't give you wings. This means that if you've purchased one if their energy drinks between January 1, 2002 and October 3, 2014, you can claim either of the two options from Red Bull, without proof of purchase required.
Related Tags