Cypress intros the new SuperSpeed Explorer Kit at IDF 2014
Cypress unveils its new SuperSpeed Explorer Kit at IDF 2014.
Published Tue, Sep 16 2014 7:26 PM CDT
|
Updated Tue, Nov 3 2020 12:14 PM CST
IDF 2014 - At Intel Developer Forum (IDF) 2014, Cypress Semiconductor Corp. introduced a low-cost, easy-to-use development platform that enables designers to add high-performance USB 3.0 throughput to virtually any system.
The EZ-USB FX3 is the industry's only programmable USB 3.0 peripheral controller. It is equipped with a highly configurable General Programmable Interface (GPIF II), which can be programmed in 8-, 16-, and 32-bit configurations. GPIF II allows FX3 to communicate directly with application processors, FPGAs, storage media, and image sensors and provides a data transfer rate of up to 400 Megabytes per second, while using lower power than alternative solutions. The SuperSpeed Explorer Kit easily interfaces with external devices via three accessory boards that connect to Aptina image sensors, Altera FPGAs and Xilinx FPGAs, respectively. The kit also includes an integrated debugger with a standard USB interface to further simplify designs and speed time to market.
For more information SuperSpeed Explorer Kit.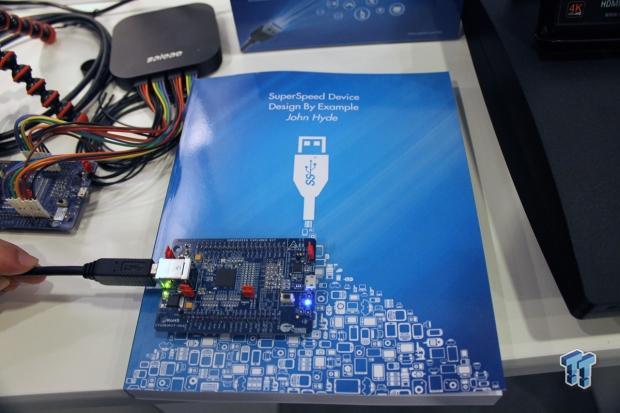 Available at IDF 2014 advance copies of the book "SuperSpeed Device Design by Example" by USB expert John Hyde at IDF. The book provides a practical approach to designing and implementing SuperSpeed USB peripherals and includes a series of examples using the SuperSpeed Explorer Kit.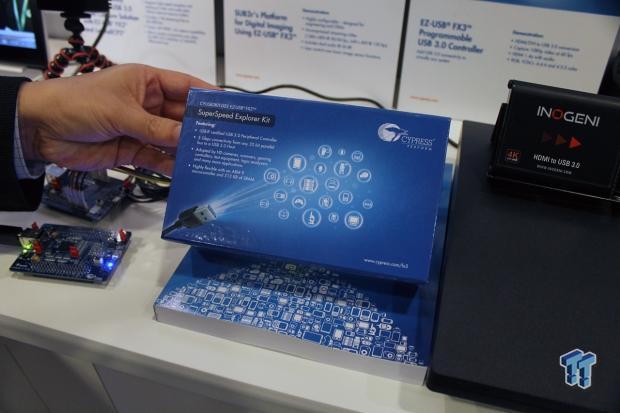 Mark Fu, senior marketing director of the USB 3.0 Business Unit at Cypress said "With the unique programmability of Cypress's FX3 solution, our new $49 SuperSpeed Explorer kit makes it easier and more cost-efficient than ever before for designers to add USB 3.0 to their next-generation products."
"I have been working with many of Cypress's FX3 customers and wrote my book to address their most common concern of 'getting started." said John Hyde, who is also a principal at USB Design By Example.
In addition to FX3, Cypress featured other solutions from its USB 3.0 portfolio at IDF, including:
The USB-IF Certified, EZ-USB HX3 USB 3.0 hub controller, which offers robust interoperability, support for Battery Charging v1.2 and Apple charging standards, and full configurability. HX3 targets docking stations, monitors, Ultrabook devices, digital TVs, set-top boxes, printers and servers.
The EZ-USB CX3 camera controller, which enables developers to add USB 3.0 to image sensors supporting the Mobile Industry Processor Interface (MIPI) Camera Serial Interface Type 2 (CSI-2) standard. CX3 provides four CSI-2 data lanes with speed up to 1 Gbps per lane, and it supports uncompressed video streams.
The EZ-USB FX3S RAID-on-Chip controller, which integrates storage host controllers that enable developers to add support for SD/eMMC memories and SDIO devices to their system.
The EZ-USB FX3 is in volume production now and is available in two packages: a 121-ball BGA (10 mm x 10 mm) and a space saving 131-ball Wafer-Level Chip Scale Package (WLCSP) with dimensions of 4.7 mm x 5.1 mm. More information on Cypress's USB 3.0 portfolio is available at Cypress.
Related Tags