Next-gen MacBook Pro should come with Core i7 and 16GB RAM as standard
Apple should bake Intel's Core i7 and 16GB of RAM as standard into its upcoming MacBook Pro refresh.

Published Tue, Jul 29 2014 12:09 AM CDT
|
Updated Tue, Nov 3 2020 12:15 PM CST
We should see Apple unveil its MacBook Pro refresh in September, but according to some new leaks, we now know what to expect in the hardware department. As it stands, the 13-inch MBP includes 4GB of RAM, while the 15-inch MBP sports 8GB of RAM by default.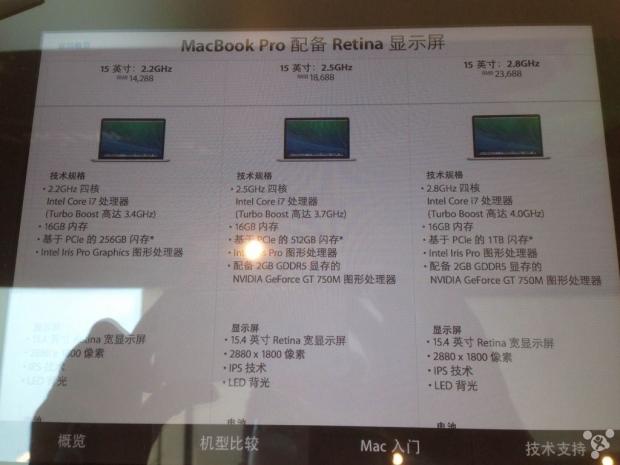 There are of course upgrade options, but it looks like Apple is upping the amount of memory in the stock models of the upcoming refreshed MacBook Pro laptops. We should see the 15-inch MacBook Pro with 16GB of RAM by default, which should open the doors to upgrade it to 32GB of RAM. This will be nice for video editors on-the-go, and other uses where 32GB of RAM is actually used to its full potential.
CPU options should be beefed up, with the current 15-inch MBPs including a 2GHz or 2.3GHz Core i7 processor. The upgrades on these include 2.2GHz, 2.5GHz and 2.8GHz options, with the 2.2GHz model rocking Intel Iris Pro graphics. The two other models feature NVIDIA GeForce GT 750M GPUs with 2GB of dedicated GDDR5 RAM. The new models with 16GB of RAM by default should come with a 2.8Ghz Core i7 processor, and the GT 750M GPU. We should expect the refreshed MacBook Pros to come in at the same $2599 price, but I'm sure we're going to see it clock up closer to $3000, especially when we're talking 16GB or 32GB of RAM.
Related Tags