CliffyB teams up with Guerrilla Games co-founder for new game studio
CliffyB and one of the co-founders of Guerrilla Games team up for a new game studio, Boss Key.

Published Sat, Jul 5 2014 4:20 AM CDT
|
Updated Tue, Nov 3 2020 12:15 PM CST
CliffyB, of Epic Games fame, has just announced he has formed a new game studio, Boss Key Productions. CliffyB has teamed up with Arjan Brussee, a former EA employee and Guerrilla Games co-founder.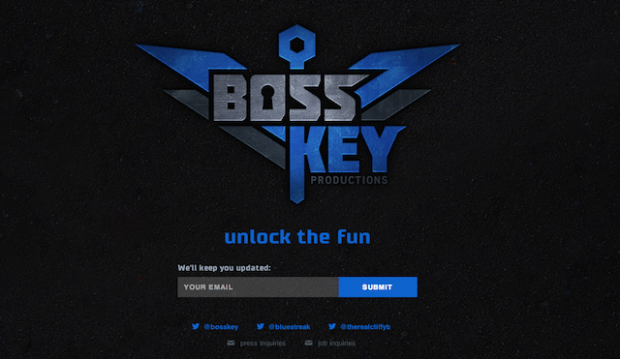 Boss Key Productions' CEO is CliffyB, while the Brussee sits in the position of COO. Before Brussee founded Guerrilla Games, he was helping Bleszinski on co-developing the infamous Jazz Jackrabbit series. At the moment, Brussee's LinkedIn says he's working as an Executive Producer at Visceral Games, the studio that is working on Battlefield: Hardline.
Just what will Boss Key Productions be offering gamers? Well, according to a document filed with the United States Patent and Trademark Office, Boss Key's goods and services will be "downloadable multi-player interactive computer game programs; computer and video game software; downloadable computer and video game software; downloadable electronic games via the Internet and wireless devices; downloadable computer application software in the field of games; interactive computer and video game programs".
CliffyB spent most of his career with Epic Games, with around 20 years with the developer who created the Unreal and Gears of War franchises. He retired from the company in October 2012, but in January 2013 he said that he wanted to return to AAA game development, but didn't want to start his own large-scale studio. Fast forward to August 2013, CliffyB teased a screenshot over Twitter, which showed a "sneak peak" at a project he was working on. In December of 2013, CliffyB said that he wanted to make a first-person arena shooter for the PC.
We could expect an announcement on July 8, according to a countdown timer that he launched. Bleszinski has said that this new studio is a "lean, agile, fun startup". He added: "I do not comment on rumors and speculation on the birthday of the nation that could allow a game designer to have a fantastic 20 year run at his first studio and then take nearly two years off only to seek out funding and start his new lean, agile, fun startup in Raleigh, N.C.".
Related Tags