HP announces all-flash arrays at spinning disk prices
Enhancements to the HP 3PAR 7450 increase performance and resiliency with a price tag of $2/GB.
Published Jun 9, 2014 5:01 PM CDT
|
Updated Tue, Nov 3 2020 12:16 PM CST
1 minute & 47 seconds read time
HP has announced a new set of feature enhancements for its all-flash HP 3PAR StoreServ 7450 array along with the claim that this marks the end of spinning disk. The new features include hardware-accelerated, inline primary deduplication, thin cloning software, Express Indexing and support for a new 1.92TB commercial multi-level cell (cMLC) SSD. By coupling these new drives with HP's data compaction technologies, customers can now achieve a $2/GB price for an all-flash array solution.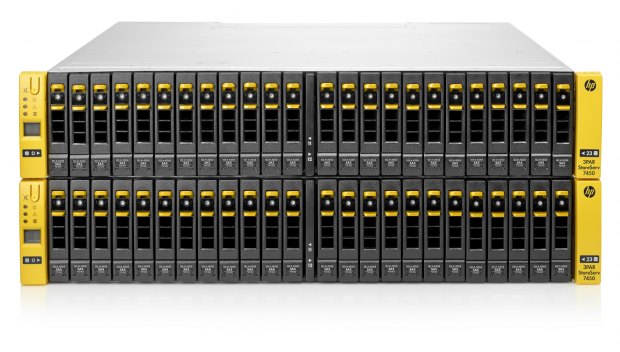 At this price target, HP believes they are creating a major market shift to allow customers to move from traditional spinning disks to all SSD arrays, no matter what the workload. Up until this point, all-flash arrays have mostly been utilized for niche workloads requiring the highest possible performance. At these prices though, HP believes all-flash arrays can be the only storage tier necessary. In fact, according to Vish Mulchand, senior director, Product Management and Marketing, HP Storage, with this release, "HP is predicting the end of auto-tiered arrays".
Comparing a 7450 configured with 250TB of 1.92TB cMLC drives and the latest OS enhancements to a similar VMAX configuration, Mulchand says the 3PAR solution is three times less expensive, takes up 1/25th the Rackspace, and consumes eight times less power. For current owners of an HP 3PAR 7450 on a support contract hoping to get similar results, they can expect a free upgrade to the new OS in September 2014. The new 1.92TB drives will be available in July 2014 at a price of $14,315.
To achieve the $2/GB price, HP has implemented a few key feature enhancements including HP 3PAR Thin Deduplication and HP 3PAR Thin Clones software. When added to existing thin provisioning, the combined solution reduces usable capacity requirements by more than 75 percent, based on a 4:1 data compaction ratio. Also, by using patented HP Adaptive Sparing technology, HP collaborated with SSD suppliers to gain an extra 20 percent usable capacity by reducing the amount of over-provisioned space typically reserved by media suppliers. And with Express Indexing, customers can scale up to 460TB raw capacity and more than 1.3PB of equivalent usable capacity.
HP also introduced the HP 3PAR Get 6-Nines Guarantee, which commits to 99.9999 percent storage uptime, as well as a five-year warranty on HP 3PAR StoreServ SSDs that are available in capacities of 480GB, 920GB and 1.92TB.
As for performance, HP claims these arrays provide predictably faster performance than high performance spinning disk solutions. In addition, that they have more predictable latency than hybrid or auto-tiered arrays at comparable pricing. The devil is always in the details so we here at TweakTown look forward to running a suite of performance tests against the 7450 sometime in September. Stay tuned for the full review!
Related Tags