Load DynamiX wins EMC Technology Connect Partner of the Year Award
Load DynamiX wins EMC's Technology Connect Partner of the Year Award.
Published Thu, May 8 2014 6:31 AM CDT
|
Updated Tue, Nov 3 2020 12:17 PM CST
EMC holds an annual trade show each year and it's turning into a big deal. Each year EMC also has an awards banquet for companies and products it deems worthy. This year, Load DynamiX won the coveted Technology Connect Partner of the Year Award.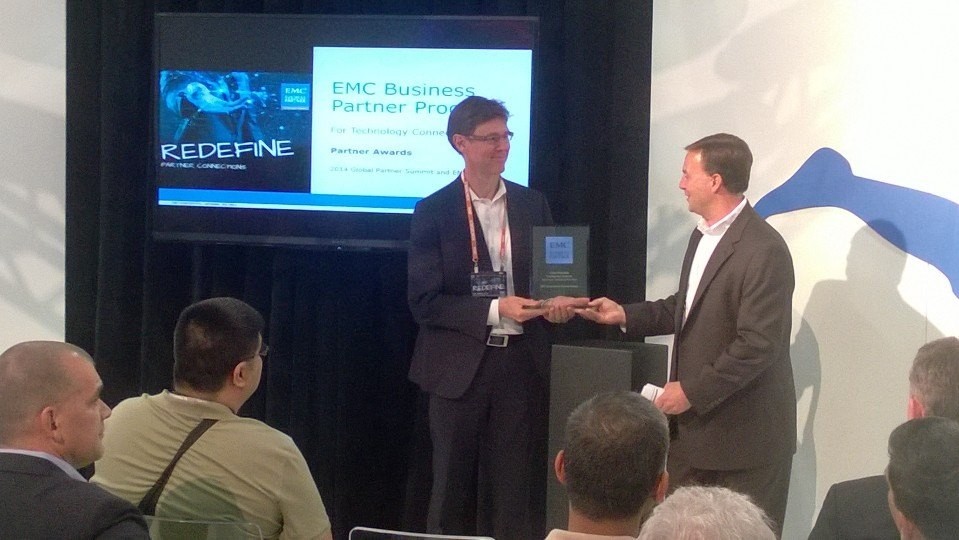 EMC World 2014, LAS VEGAS, NV, May 7, 2014, - Load DynamiX, the leader in infrastructure performance validation, today announced that it has been awarded the EMC Technology Connect Advantage Partner of the Year Award. Presented at EMC World, Load DynamiX was only one of three partners to receive this year's inaugural award. Load DynamiX storage workload modeling software and load generation appliances help enterprise storage architects correctly rightsize their EMC storage infrastructure and align it with actual application performance requirements, ensuring that the proposed configurations can handle the projected workload.
"We are pleased to recognize Load DynamiX as an outstanding Technology Connect Advantage Partner of the Year," said Don Lamburn, Director, EMC Technology Connect Program, EMC Corporation. "We look forward to working with Load DynamiX as they play an important role in helping customers validate their infrastructure on their journey to the 3rd platform."
Load DynamiX received the award for three key distinctions:
Dedication and commitment to the program with multiple validations of EMC storage systems, including the EMC Family of VNX systems and Isilon storage.
Providing performance validation appliances and storage workload modeling expertise for conducting Proofs of Concept that allow EMC to show the customer a comprehensive evaluation of their current application workloads and how performance can be optimized with EMC systems.
Supported common objectives with EMC across the EMC federation by working with multiple business units and labs which utilize Load DynamiX appliances for QA of EMC products.
"Trace3 has been working with Load DynamiX for the past two years, utilizing their solutions to validate and deploy EMC products faster and with maximum performance optimization," said David Titov, director of professional services at Trace3. "They have been a wonderful partner and it is great to see the recognition from EMC."
By integrating Load DynamiX storage performance validation processes with EMC storage solutions, end-user organizations can more efficiently acquire and deploy new storage infrastructure based on actual performance requirements. Load DynamiX's technology allows storage architects and storage engineers to emulate their specific application workloads including their I/O profiles that contain both data and metadata, before it is deployed into production. Load DynamiX is an Advantage partner in the EMC Business Partner Program for Technology Connect Partners
"As the concept of storage performance validation continues to permeate throughout the industry, Load DynamiX continues to deliver the only solution that truly emulates real-world application workload environments," said Philippe Vincent, CEO of Load DynamiX. "This distinction from EMC elevates the importance of storage workload modeling and performance validation as an indispensable process that storage architects should adopt in order to assure storage infrastructure performance and maximize ROI."
Load DynamiX is exhibiting their products at EMC World 2014 in Las Vegas May 5-8 in booth #642.
About Load DynamiX
As the leader in infrastructure performance validation, Load DynamiX empowers IT professionals with the insight needed to make intelligent decisions regarding networked storage. By accurately characterizing and emulating real-world application behavior, Load DynamiX optimizes the overall performance, availability, and cost of storage infrastructure. The combination of advanced workload analytics and modeling software with extreme load-generating appliances give IT professionals the ability to cost-effectively validate and stress today's most complex physical, virtual and cloud infrastructure to its limits.
Related Tags