Seagate Technology begins shipping world's fastest 6TB hard drive
Seagate's Enterprise Capacity 3.5 HDD V4 6TB HDD has begun shipping worldwide and is taking the throne as the world's fastest enterprise grade 6TB HDD.
Published Mon, Apr 7 2014 9:49 AM CDT
|
Updated Tue, Nov 3 2020 12:17 PM CST
This morning, Seagate Technology announced that it has begun shipping the world's fastest 6TB capacity 3.5-inch hard drive. The new Seagate Enterprise Capacity 3.5 HDD V4 features the fastest performance available for a "nearline" HDD, thanks to Seagate's utilization of an eighth-generation platform that allows the new HDD to deliver up to 25-percent more performance than competing 6TB drives.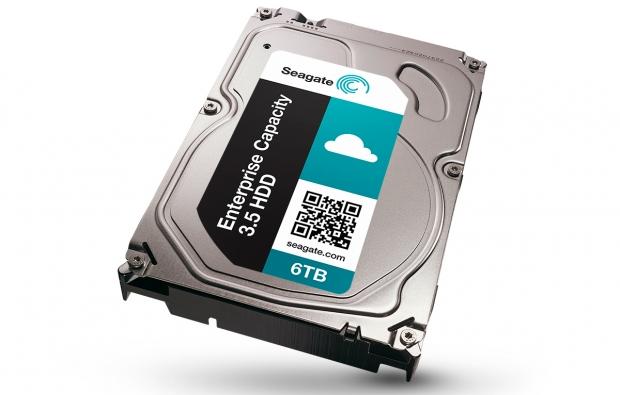 "Unstructured data growth is doubling exponentially and will propel the digital universe to reach 16 Zettabytes of data by as early as 2017. This will cause cloud service providers to look for innovative ways to store more within an existing footprint while lowering operational costs," said Scott Horn, Seagate vice president of marketing. "Seagate is poised to address this challenge by offering the fastest 6TB enterprise capacity HDD based on our proven, reliable platform meeting this never-ending demand in both private and public cloud data centers."
Seagate says that they have designed this new drive with the enterprise storage market in mind, and it is ideal for 24X7 bulk data storage. The drive features a 12Gb/s SAS interface, or in a SATA 6Gb/s interface. The new 6TB drive also features multi-drive rotational vibration tolerance, and robust 7200-RPM performance, ramp load technology alongside a humidity sensor to allow it to deliver optimum performance even in the harshest environments. Seagate has purpose-built the drive for enterprise environments, and utilized it to the T10 and T13-compliant power management standards enabling customers to adjust systems for optimal energy usage resulting in up to 90 percent more energy savings.
"Cloud service providers across the globe are amassing terabytes of digital content each month and we expect this number to continue its aggressive growth in the coming year," noted Dave Reinsel, IDC's group vice president for storage and semiconductors. "With this immense appetite in mind and looking at cloud architecture's boundless demand for solid-performing and reliable drives - reaching higher capacities, like Seagate did with its new, traditional 6TB drive, should be well received by IT managers looking to meet their data center's soaring need for storage with the performance."
Seagate Enterprise Capacity 3.5 HDD v4 Key Features:
Industry-Leading Performance- 25 percent faster than competitive 6TB drives.

Highest Capacity Available-Up to 6TB per drive for maximum density server and storage solutions.

Enterprise-Class Reliability- Industry-leading rotational vibration tolerance for consistent performance and enhanced error correction for accurate data storage.

Best-in-Class Security- Self-Encrypting Drives (SED) with Instant Secure Erase for easy drive disposal or repurposing and FIPS SED security options.
Qnap, Synology and Supermicro have all announced support for the new 6TB drive and have issued the following statements:
"QNAP is excited to offer support for Seagate's new 6TB Enterprise Capacity 3.5 HDD v4 to our users. With 50 percent greater storage density and optimized performance for nearline workloads, it is ideal for meeting the needs of our cloud data center customers who demand optimized hardware for their unique workloads as well as our high capacity SAS-enabled Turbo NAS users who demand high capacity and high reliability data storage," said Meiji Chang, general manager of QNAP.
"Synology is very pleased to be working with Seagate on enhancing its device offerings. The integration of Seagate's new 6TB Enterprise Capacity 3.5 HDD v4 into our upcoming product lines will help us provide our customers with faster access to their content while offering a new set of increased capacities," said Alex Wang, CEO of Synology, Inc.
"Supermicro's new TwinPro and wide range of SuperServer, SuperStorage solutions all feature integrated 12Gb/s SAS 3.0 support enabling full and immediate access to the maximum performance and capacity offered by Seagate's new 6TB 12Gb/s Enterprise-class HDDs," said Wally Liaw, vice president of sales, international at Supermicro. "In addition to the increased I/O bandwidth, our SAS3 optimized platforms are cost competitive with current SAS2 6Gb/s enabled systems offering customers not only performance but also accelerated ROI advantages. With Seagate's new 6TB Enterprise Capacity 3.5 HDD v4, Supermicro now offers the most cost effective scale-out storage solutions maximized for performance, density and energy efficiency in enterprise, data center, cloud and HPC applications."
Related Tags