In August of 2012, Vladimir Putin paid a visit to a 14th century monastery where he engaged in a meet and greet with members of the church. All seemed well until a Russian Orthodox priest attempted to greet Putin with a kiss on the hand, which Putin promptly rejected in disgust. Recently, someone has created a .gif of the incident, and it is hitting viral proportions on popular sites like Reddit, Imgur, and 9GAG.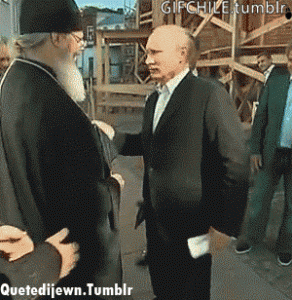 As tensions in Asia heat up, all eyes have been on Putin, and the internet has been having a field day. Images much like this one have surfaced all over, depicting Putin in the manliest of ways, and often presenting him shirtless in a side-by-side comparison with president Obama. Unsurprisingly, these images often hit viral proportions.
Even before Putin invaded Crimea, the internet seemed obsessed with the idea of a president who wore camouflage pant, rode horses and motorcycles shirtless, shot semi-automatic weapons, and went around touting his buff body. Last year, the most popular images of Vladimir Putin featured him taking down Chuck Norris in a judo tournament, and riding the back of a grizzly bear.
What are some of your favorite gag images of Russian president Vladimir Putin? Let us know in the comment section below.