Popular event notification site, Meetup, down for days due to DDoS
Meetup suffering from service outage due to DDoS attack for several days on end now.
Published Mar 3, 2014 9:40 PM CST
|
Updated Tue, Nov 3 2020 12:18 PM CST
0 minutes & 55 seconds read time
Meetup is one of those websites that almost everyone has used at some point, and with more than 12 years of an online presence it is no surprise that many have grown to depend on the service for spreading the word about their meetings. Unfortunately for the last several days, Meetup has been experiencing a massive Distributed Denial of Service attack (DDoS) that has crippled its servers and rendered the service unusable.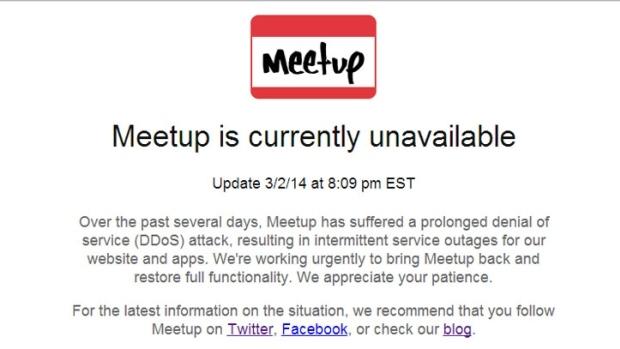 While the attack lessens from time to time, I have only noticed the service up twice over the last 4 days with it being back down within an hour of it coming back online. The attack is non political, and is purely designed to extort money from the company behind Meetup. An email arrived in CEO, Scott Heiferman's, inbox shortly after the attack began that read; "A competitor asked me to perform a DDoS attack on your website. I can stop the attack for $300 USD. Let me know if you are interested in my offer."
Meetup chose not to pay the extortionist even though the amount demanded was extremely small as it has a policy not to negotiate with criminals. At the time of this writing Meetup was back up, but has been down on and off for most of the day. The company says that it is working on restoring stability, and hopes that things will return to normal shortly.
Related Tags