Researchers in Japan have made an 'Earclip-type Wearable PC' which can be controlled by blinking or the 'click' of a tongue. Currently the prototype is being tested.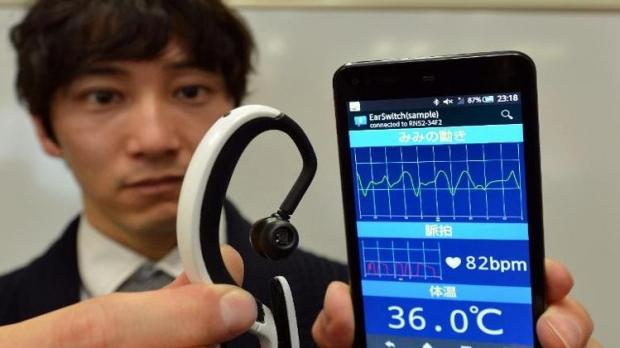 The wireless device weighs 17 grams and is equipped with Bluetooth, GPS, Compass, Gyro-sensor, barometer, speaker and a microphone. What's being said by many commentators is that this device could be the 'next big thing' in wearable technology. The device uses a microchip and has data storage. The design of the Earclip PC was inspired from a traditional 'ikebana' flower setup. Kazuhiro Taniguchi of Hiroshima City University said,"We have made this with the basic idea that people will wear it in the same way they wear earrings."
This works by using tiny movements in a person's ear, which can differentiated by the way a user moves his/her eyes and mouth. The developers are hoping that they will have an end product by Christmas 2015, and have the ability to wireless connect with an iPod or any other gadget which would allow the user to navigate through software programs using facial expressions such as sticking your tongue out or clenching your teeth.
This application has lots of usefulness according to the developer as it can be used as a 'third hand' to rock climbers, motor bike riders, people with disabilities and even astronauts. The earclip PC also doubles up as a hearing aid and a health monitoring device which can log pulse, body temperature, sneeze counts and even the amount of time you spend on eating. The accelerometer can sense when the user will fall and send an instruction to the smartphone to the user's relatives or call an ambulance using the GPS data.
The device should be available commercially by April 2016.