DataON Cluster-in-a-Box earns certification for Windows Server 2012R2
DataON certifies thier Cluster-in-aBox solution with Windows Server 2012 R2.
Published Thu, Dec 19 2013 9:57 AM CST
|
Updated Tue, Nov 3 2020 12:19 PM CST
DataON Storage, the leading provider of OS-agnostic Storage enclosures, has announced that their cluster-in-a-box and JBOD enclosures have recvieved certification for Microsoft Windows Server 2012 R2 Storage Spaces. The enhanced functionality of Storage Spaces, in concert with the correct hardware, provides auto-tiering and hybrid cloud support.
One of the major attractions of Storage Spaces is the easy-to-use failover capabilities. Providing a high level of redundancy and failover support for entire storage systems was an incredibly taxing and complex endeavor from an IT perspective even a few short years ago. This adds to the TCO of the solution due to prohibitive expenditures for initial setup and long-term management.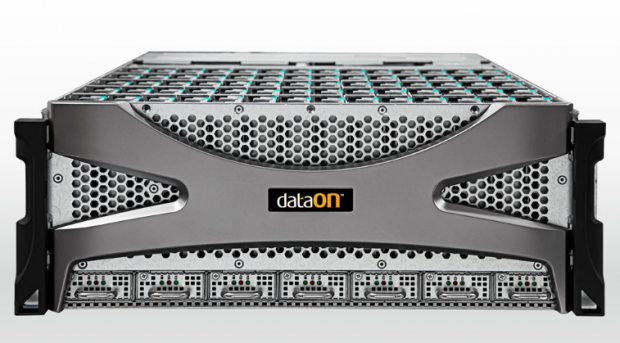 The emergence of Cluster-in-a-Box(CiB)solutions has brought this type of functionality withing striking distance of smaller organizations, and also delivers a lower TCO for larger organizations. While the long-term penetration of the Storage Spaces platform into the datacenter market will spawn a whole ecosystem of products, for now there is only one certified CiB solution available for Widows Server 2012 R2.
The CiB-9470 utilizes the server failover and resiliency features of Storage Spaces to provide high availability dual-node clustering with hybrid storage capacity up to 280TB in a 4U enclosure. In addition to simplified management, the design requires 75% less rack space than traditional clustered HA solutions, and provides a 30% power saving.
The slimmer CiB-9220 comes in a 2U form factor and is a 12-bay dual-node solution for both SMB and ROBO environments.
DataOn Storage brings 25 years of storage industry experience and a worldwide install base that includes over 7PB of certified Windows Server 2012 Storage Spaces-based solutions this year. Look for this to leadership in this segment to extend further in the new year.
Related Tags