Today Synology announced the launch of its latest high-performance rack mounted NAS, the all new RackStation RS814 NAS. The system is designed around a 4-bay 1U server design and can scale up to eight total drives with the inclusion of the RX410 expansion module.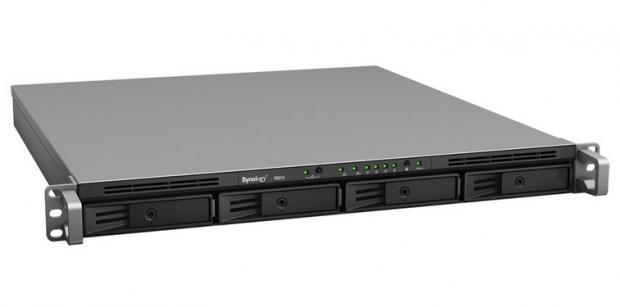 Synology says that the new RackStation RS814 NAS is optimized for small to medium business environments and features passive cooling of the CPU which greatly limits ambient noise generated by the device. The RS814 comes equipped with thw award-winning DiskStation Manager OS that allows for easy and efficient management of your storage media. With performance exceeding read speeds of 200MB/s and write speeds of 130MB/s the RackStation RS814 is the ideal solution for SMB and SOHO deployments. The RS814 retails for $599 while the 4-drive expansion RX410 cost an additional $599.
Shipping with DiskStation Manager (DSM) 4.3, the RS814 takes advantage of DSM's business oriented features including:

Web Station with PHP/MySQL enables the RS814 to host up to 30 websites

VPN Server - for providing a secure way of connecting to your LAN from a remote location

Cloud Station - keeps files, file types, and folders in sync across all devices

AD and LDAP integration - easily deploy Synology products into your existing environment

"The RS814 is designed to meet the needs of small and medium business users," said Thadd Weil, Public Relations Specialist at Synology America Corp. "When you combine its performance, scalability and cost, the RS814 adds up to an excellent value."