It's that time again everyone! Of course I am talking about the arrival of a new Humble Bundle and a fun and easy way to support some great charities. The new Humble Bundle features 6 games from Warner Bros. Games including Batman: Arkham Asylum GOTY, F.E.A.R. 2: Project Origin, F.E.A.R. 3, and Lord of the Rings: War in the North.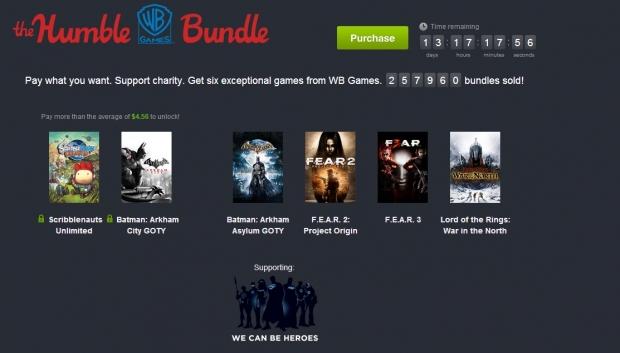 For those who wish to pay a little extra to beat the average, ($4.56 at the time of this writing) you will also pick up Steam keys for Batman: Arkham City GOTY, and Scribblenauts Unlimited. This bundles chosen charity is the We Can Be Heroes foundation, which is designed to raise awareness and critical funds needed to fight the devastating hunger crisis in the Horn of Africa and bring help and hope to eight million people who are in urgent need of assistance.
I have purchased almost every humble bundle and weekly sale that has been offered so far, and today is no exception. I urge everyone to jump in and even if you can only afford to donate $1 you will land some sweet games, and help out a deserving charity at the same time. Do you plan on purchasing the new Humble Bundle? Let us know in the comments. For more on the We Can Be Heroes charity, check out the video below.