QNAP recently updated the QTS 4.0 Turbo NAS operating system for its business-class Turbo NAS products. QTS is the operating system that runs QNAP NAS devices. The software is Linux based, and has been designed to deliver high-performance applications and services that fulfill the clint's needs of file sharing, storage management, and backups. Solutions for virtual environments, multimedia, and surveillance are also built in.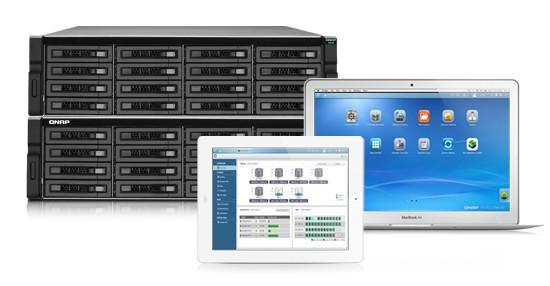 "Our previous release of QTS 4.0 for home-class Turbo NAS models has been a great success with tremendous positive feedback from our users," said Tony Lu, product manager of QNAP. "Now we are pleased to bring forth the QTS 4.0 for QNAP's business-class Turbo NAS models that we believe will greatly benefit business applications of the Turbo NAS,"
The update brings forth advanced functions for SMB users, including 400TB scale-up solution, intelligent Storage Manager, flexible volume management with thin-provisioned volume supported, SSD cache, SMART data migration, VMware VAAI and Microsoft ODX support and more, and greatly enhancing the efficiency in storage management, expansion, data process, and management in virtualization environments.
QNAP says that the updated version of QTS 4.0 with advanced business features, is available for the following Turbo NAS models:TS-EC1679U-RP, TS-1679U-RP, TS-EC1279U-RP, TS-1279U-RP, TS-1270U-RP, TS-EC879U-RP, TS-879U-RP, TS-870U-RP, TS-1079 Pro, TS-879 Pro, TS-1269U-RP, TS-869U-RP, TS-469U-SP, TS-469U-RP, TS-869 Pro, TS-669 Pro, TS-569 Pro, TS-469 Pro, TS-269 Pro.