Earlier today, HighPoint announced that it has began shipping the RocketU 1144C, which it says is the world's fastest USB 3.0 controller. The USB 3.0 controller card is powered by HighPoint's per-port performance architecture and a fast PCI-E 2.0 x4 host interface that is combined with UAS technology, which is responsible for this controllers abnormally fast speeds.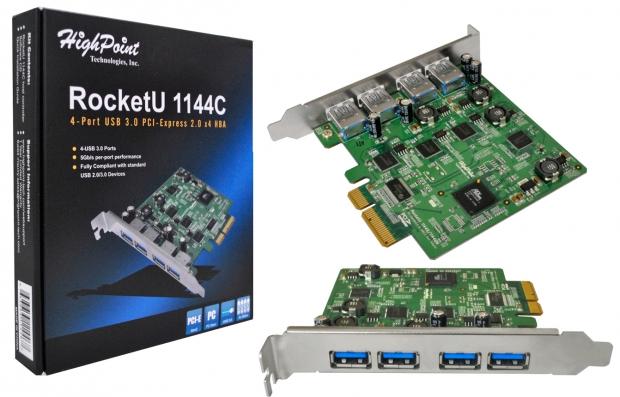 The RocketU 1144C delivers unprecedented levels of performance when paired with UAS capable storage devices, such as the RocketStor 5422 USB 3.0 Storage Dock. UAS (USB Attached SCSI Protocol) enables USB 3.0 devices to store and process multiple commands in parallel; significantly reducing wait time and streamlining data transfers. The speed and efficiency advantages provided by UAS technology are ideal for multi-tasking and performance-hungry applications.

HighPoint's third generation 4-Port USB 3.0 HBA provides all of the same features as previous 4-port HBA's.

Customers using the RocketU 1144A and RocketU 1144B can upgrade directly to the RocketU 1144C - just swap out the card and you are good to go! No complicated installs or driver updates required!

The RocketU 1144C the industry's best all-in-one USB 3.0 upgrade - take full advantage of the dramatic performance boost delivered by UAS enabled storage while simultaneously adding full support for all industry standard USB 2.0/3.0 devices to any PC!

HighPoint per-port Performance Architecture: 4x Dedicated 5Gb/s USB 3.0 Ports

UAS Enabled - 30% performance Boost over non-UAS configurations!

New Compatibility Breakthrough: Supports all Industry Standard USB 3.0 / USB 2.0 Devices!

Performance Companion for RocketStor 5422: Industry's fastest USB 3.0 Storage Dock!