It isn't often that I find myself still thinking about a display at a trade show a week later, but the marriage of SMART Storage Systems' Guardian Technology and Diablo's Memory Channel Storage (MCS) displayed at Flash Memory Summit 2013 has the potential to be a game changer that can alter the very shape of the datacenter.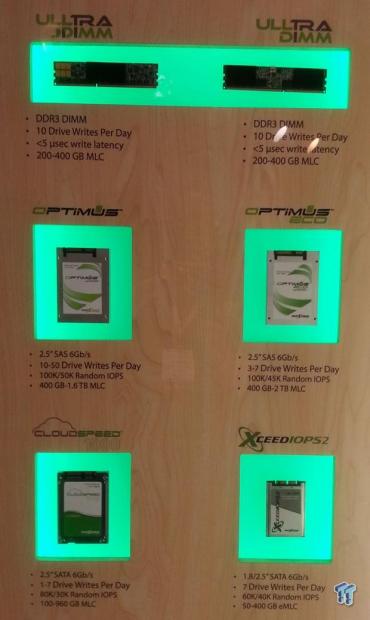 We are very familiar with this display of SMART Storage Systems products; we have actually posted product evaluations for all of the SSDs, and are waiting in tense anticipation for the opportunity to test the new UltraDIMM which resides at the top of the SMART product family in this display.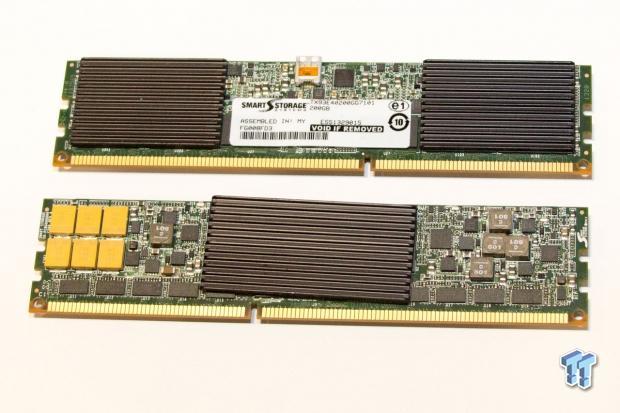 A close-up of the UltraDIMM reveals that the underlying MCS technology allows NAND to be addressed as a storage volume, but with the unique placement of the NAND into the ultra-fast memory slots. Each DIMM has two SMART controllers to manage two banks of NAND, and a Diablo Technologies controller to aggregate the NAND pools and present them to the memory bus as a single device.
The Diablo MCS technology allows addressing the NAND as either block storage or as memory, effectively creating an exponential increase in system memory or the option of ultra-fast block storage.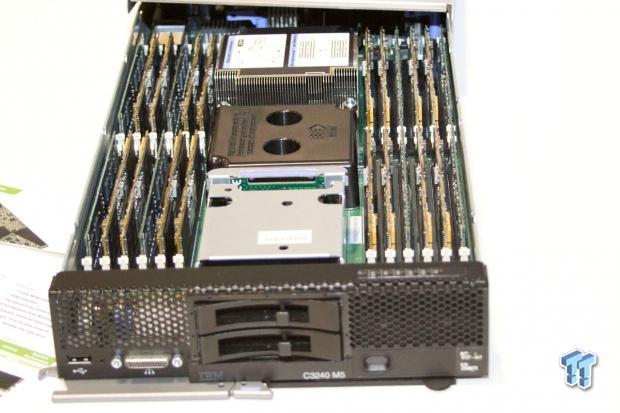 One of the key advantages of this technology is for dense applications. In Blade servers and ultra-dense deployments, the UltraDIMM will allow for maximum density. The picture does no justice to the small size of this server, which measured approximately a foot in width.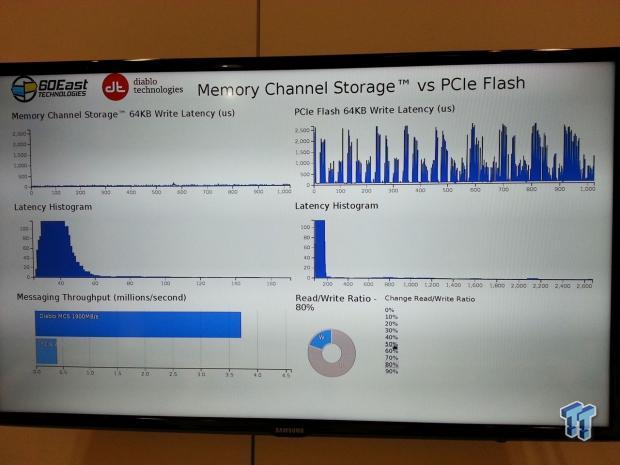 Density is a big benefit, but it pales in comparison to the massive speed enabled by the UltraDIMM. One of the key reasons for the enhanced performance over a PCIe SSD is the reduction in latency from utilizing the memory bus. This eliminates the bus contention that is a common problem with PCIe SSDs. As demonstrated in the above test results, the UltraDIMM provides superb latency and throughput that far outperforms even the fastest PCIe application accelerators.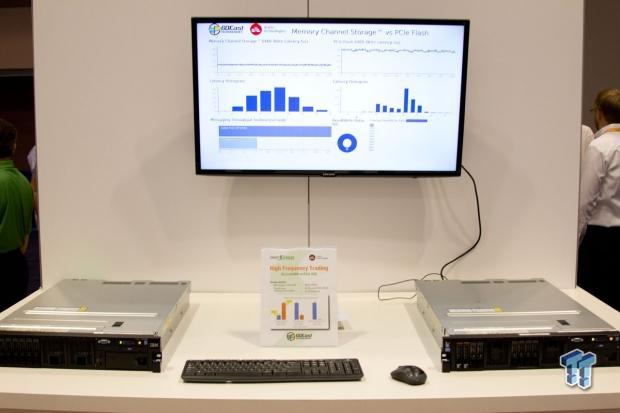 Another display illustrates the use of the UltraDIMMs in a typical server chassis. While there is a need for BIOS enhancements to utilize the UltraDIMM, there are vendors stepping up to provide support.
With the recent completion of the SMART Storage Systems acquisition by SanDisk, the potential for this technology to explode into the datacenter has risen immeasurably. SanDisk has broad penetration into the market, the advantage of NAND fabrication, and works with 6 of the 7 major OEMs. Look to these pages for a full evaluation of the UltraDIMM product as soon as they become available.