Today, Apacer unveiled the newest generation of its SDM5 modular SATA SSDs. The new SATA Disk Module 5 adopts the SATA 3 6GB/s high-speed interface standard and features Toggle DDR2.0 NAND Flash. The module incorporates a specifically designed 2-channel bidirectional structure that allows the device to reach read/write speeds of up to 315MB/s and 145MB/s, respectively.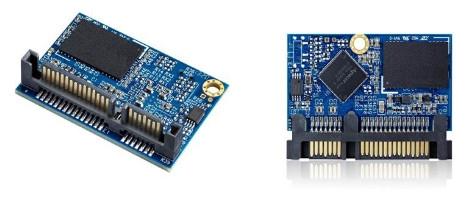 Jeff Lin, Embedded Application Product Division Senior Director of Apacer indicated, "In order to satisfy the user-specific needs for various mechanisms, we will introduce perpendicularly and parallel modularized solutions at the same time. Thus, the customer will have diverse choices in accordance with the motherboard design demands, without being limited to the joint direction of solid state drive, and develop more diversified top products at the lowest cost."
The Apacer SDM5 uses standard 7-pin signal and 15-pin SATA signal and power connectors and are featured in two different configurations with one having the connectors perpendicular to the board at 90 degrees, while the other is parallel at 180 degrees. Apacer says that the new SDM5 features a capacity of 128GB and complies with the MIL-810F certification, which is the toughest standard required by the US military regulations.