Today, iBUYPOWER and Computer Logic Gaming (CLG) have teamed up to launch several new custom-designed, high-performance gaming systems that are sure to give any gamer the advantage needed when competing in competition level events. iBUYPOWER says that the systems were designed from the ground up and built around the needs of a hardcore competition gamer and that all of the new systems have been tested by teams from iBUYPOWER and CLG to ensure that every aspect of the systems were tweaked to perfection.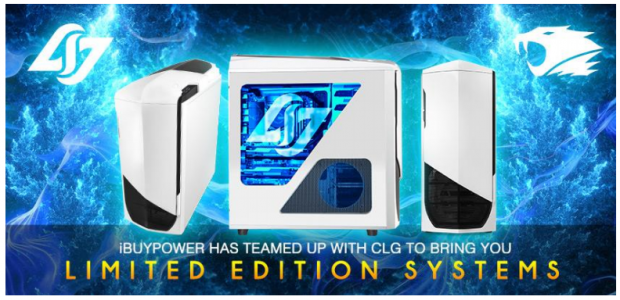 The new systems come in three unique configurations and are encased in a "Custom Laser-Etched Chassis" which bears the CLG logo on the case's side panel window. "We've stayed true to our mission since day one of committing to the eSports scene. We want to support and give back to the community," said Darren Su, VP of iBUYPOWER. "CLG told us that fans demanded something competitive and we listened."
Available with up to an Intel Core i7-4770K CPU, NVIDIA GeForce GTX 780 graphics, 16GB of DDR3-1600 memory, 256GB SSD + 1TB HDD, and sealed-loop liquid-cooling, each of the CLG systems will most definitely plow through any game you chose to throw at it. "I'm a computer enthusiast, and as the owner of CLG, I care a lot about what we put our brand on. The specs to price ratio on the CLG edition iBUYPOWER computers are great, which makes me happy to be working with them," said HotshotGG, Owner of CLG. "Plus, have you seen the custom case designs?"
The systems are available in three different configurations: Official CLG System 760, Competitive CLG System 770, and The HotshotGG Edition. iBUYPOWER says that the competitive CLG 770 systems are the exact specs that CLG themselves use to train for the LCS. Those who want more can opt for HotshotGG's system, which he uses. Pricing starts at $1099 and the company says that the new systems will begin shipping in September.